News story
UK Government's strategy to boost Scotland's offshore wind sector
Government and business have today published a long-term multi-million pound strategy to strengthen Scotland's position in the offshore wind industry.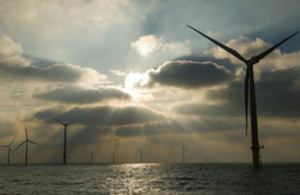 Certainty and security are central to sustained investment in Scotland's significant offshore wind resources.
That was the message from the Secretary of State for Scotland on the day the UK Government and business launched a multi-million pound long-term strategy aimed at strengthening the UK's position in the offshore wind industry.
The UK already leads the world in offshore wind power generation. With more capacity than the rest of the world combined the industry in the UK has the potential to create 30,000 jobs and contribute £7 billion to the UK economy by 2020 with exports having the potential to significantly add to these economic benefits.
Scotland's role
Scotland has a major role to play in this with an estimated 25% of Europe's offshore wind potential. Today's strategy will help ensure that the economic benefits are felt in Scotland and across the UK by leading a strong partnership approach. Companies in Scotland already getting involved in the sector such as ROVOP and Petrofac in Aberdeen are demonstrating the demand for skills, knowledge and innovation on an international scale.
The strategy unveiled by Deputy Prime Minister Nick Clegg and Energy Secretary Edward Davey identifies practical measures to develop and grow a competitive UK supply chain combined with inward investment to open up opportunities for UK businesses.
The work will be led by the Offshore Wind Industry Council, a new partnership between Government and Industry chaired by Scottish Power's CCO Keith Anderson, with support across UK Government from DECC, BIS and UKTI as well as the Scottish Government.
Scottish Secretary Michael Moore said:
Scotland's potential and strength in the offshore wind industry is very well established.

Together with the UK's financial framework, electricity market reform providing longevity on prices for industry, significant funding for our world-leading expertise like the Offshore Renewable Catapult Centre in Glasgow and initiatives like the Edinburgh Headquartered UK Green Investment Bank, today's strategy provides certainty and security in a long term future for offshore wind which will be vital for attracting new investment to Scotland and strengthening our supply chain in the years ahead.
This strategy is the next step in the Government's industrial strategy programme. So far eleven key sector strategies have been published to secure sustainable future growth in the economy including the Oil and Gas strategy launched in Aberdeen earlier this year by Vince Cable, Edward Davey and Michael Moore.
Published 1 August 2013