News story
UK Government underlines importance of Scottish fishing industry‬
Fishing is as much a part of Scotland's future as it has been in the past, say UK Government ministers.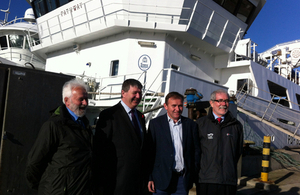 Peterhead, the UK's largest white fish and pelagic port, was the venue for a visit today by Scottish Secretary Alistair Carmichael and the Minister for Farming, Food and Fisheries George Eustice.
Peterhead has also played a significant role in the development of North Sea oil and gas over the past 35 years. Its port now hosts a full range of other cargoes and commodities including agricultural products such as grain, timber and fertiliser.‬
‪As part of the visit the Ministers discussed the future of fishing in Scotland with the Scottish Fishermen's Federation as well as skippers and industry representatives from the whitefish, shellfish and pelagic sectors, covering all corners of the Scottish coast and the Northern Isles.
Mr Carmichael said:‬
Scotland has a proud tradition as a fishing nation and Peterhead is at the heart of that tradition. Generations of Scots have made their living from the sea and many of our remote and rural towns and villages depend on the fishing industry – as I know only too well from my own constituency of Orkney and Shetland.‬

I'm determined to ensure that fishing will be as much a part of Scotland's future as it has been of its past. That's why I'm working with my DEFRA colleagues to get the best possible deal for Scotland's fishermen in Europe, while respecting the need to conserve stocks. We are fortunate to be blessed with fantastic natural resources and we must manage these sustainably.‬

Our fishermen work hard to put fish on our plates. Nobody should be in any doubt about what tough and dangerous work it can be. They deserve the government's support for their industry and that's what they will get from me. They deserve nothing less.
Mr Eustice said:
I want to work closely with fishermen so we can achieve our shared goals of a thriving fishing industry, sustainable fish stocks and a healthy marine environment.

I wanted to make a visit to Scotland an early priority. There are some important negotiations in the months ahead, particularly relating to cod quotas.

Reducing quotas at a time when stocks have increased would only lead to increased discards which no one wants.
Published 24 October 2013