UK Government to reinvigorate relationship with Overseas Territories
A new strategy that will reinvigorate the UK's relationship with its Overseas Territories will be at the heart of discussions at the annual Overseas Territories Consultative Council on 17 November.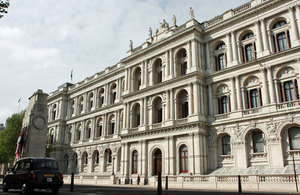 Hosted by Foreign Office Minister for the Overseas Territories Henry Bellingham, the meeting will bring together Premiers, Chief Ministers and elected representatives from across Britain's Overseas Territories for discussions on issues such as public finance; the environment; criminal justice; transport safety and security; and good governance.
And in a sign of renewed cross Government support for the Overseas Territories, Ministers from the Departments for International Development, Transport, Environment, Energy and Climate Change, the Treasury, Home Office and Ministry of Defence will attend.
Speaking ahead of the meeting, the Minister for the Overseas Territories said:
"I am delighted to welcome elected leaders from the Overseas Territories to this year's Overseas Territories Consultative Council. Much has happened since Territory leaders gathered in London 12 months ago. The UK government wants to develop a new strategy for the Overseas Territories which provides more effective support for their development and better risk management; one that involves, and is agreed by, the whole of UK Government.
We have got a great deal to discuss. I am looking forward to open and frank discussions and to working with Territory leaders to resolve issues and to strengthen our relationship. We value our ties with the Overseas Territories highly and are keen to maintain that bond of friendship."
In addition to the Council meeting, leaders and elected representatives will have an audience with Her Majesty The Queen and meet the Foreign Affairs Committee; as well as having bilateral meetings with Minister Bellingham.
Published 23 November 2010