World news story
UK Government spearheads Ghana's Prison Reforms
UK Government sponsors key officials of the Ghana Prisons Service on a study tour of the UK's prison system.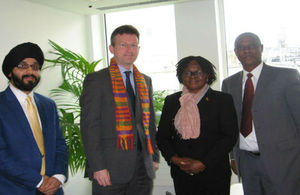 The UK Government has sponsored four key officials of the Ghana Prisons Service and the Prisons Desk Officer at the Ministry of Interior on a study tour of the UK's Prison System. The Ghanaian delegation, led by the Controller General of Prisons, Ms. Matilda Baffour –Awuah included Mr. Stephen Cofie, Deputy Controller of Prisons in-charge of Welfare and Chairman of the Prisons Transformational Task Force, Rev. James Teye Tetteh and Mr. Nathaniel Agyemang Onyinah, both Chief Superintendents of Prisons and members of the PTTF. The delegation was accompanied by Mr. Charanpreet Walia, Head of Migration Policy for West Africa and Ms. Eunice Buaben, Regional Migration Support Officer from the British High Commission.
The aim of the study visit was to provide insight into the UK's prison system; gain an overview of UK correctional facilities and share best practices with UK counterparts. Ghana's prisons have regularly come under scrutiny by many international bodies such as the UN, Amnesty International as well as local and international media for overcrowding and lack of basic amenities such as quality healthcare and suitable means of transporting prisoners from prisons to courts. In November 2013, at the request of the Government of Ghana, the UN and UK commissioned experts respectively to assess the state of Ghana's prisons.
The Ghanaian Minister for the Interior, Mr. Kwesi Ahwoi who has overall responsibility for Ghana's Prisons, requested that the Transformational Taskforce and Controller General visit the UK to gain better understanding of the UK prison system and share best practice in order to be better placed to influence positive change and bring about reforms within Ghana's Prison Service.
The delegation, visited the HM Prison High Down at Sutton, Surrey to learn first-hand, the processes and procedures of operation in a UK prison system. They also had the opportunity to visit the Headquarters of the National Offender Management Service (NOMs) and met with key officials of the UK Ministry of Justice including the Under-Secretary of State for Prisons and Rehabilitation, HM Chief Inspector of Prisons, Head of Prisons Research, Prison Reform Trust and the Director of Migration at the Foreign and Commonwealth Office. This study visit will enable Ghana to reforms its Prisons Service in order to achieve at least the minimum UN International Correctional Standards.
The Ghana Prisons Service is now developing an action plan to replicate some of the key lessons learned from the UK Prison tour.
Published 15 July 2014