World news story
UK government launches first ever pop-up consulate in Louisville
The UK's first-ever pop-up consulate is a temporary office to highlight what makes Britain a great place to visit & do business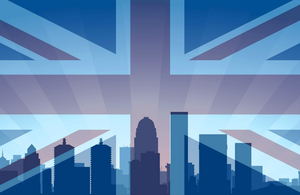 Starting Monday, 11 March, the British Consulate General in Chicago will take over an office space in the National City Tower complex at 4th and Main Streets in downtown Louisville to host meetings and events for leaders in Kentucky's civic, business, education, law enforcement and non-profit communities.
Among the scheduled events are:
a launch reception with local dignitaries on Monday, 11 March
a speech by the British consul general sponsored by the World Affairs Council, 11:30am to 1:30pm, Tuesday, 12 March
a free business briefing sponsored by Greater Louisville, Inc. and the World Trade Center, 2pm to 3pm., Tuesday, 12 March
an open house for British nationals and local law enforcement officials to learn how we can help when things go wrong, 9am to 12:00pm, Tuesday, 12 March
a bourbon vs Scotch tasting event with Greater Louisville International Professionals and Young Professionals Association of Louisville on Tuesday, 12 March
a performance by The Band of the Scots Guards And The Pipes, Drums, Highland Dancers of The Black Watch 3rd Battalion, 7:30pm, Wednesday, 13 March
an open house for high school students interested in studying in the United Kingdom, 5pm to - 6:30pm, Thursday, 14 March
a briefing on the UK's life sciences sector on Friday, 15 March
Throughout the week, the pop-up consulate will showcase the best of UK design and manufacturing with vehicles on display from MINI of Louisville, Commonwealth Motorcycles and Gibbs Sports Amphibians. Members of the public are welcome to stop by the pop-up consulate for a cup of tea and to speak with British consulate representatives.
Pop-Up British Consulate transforms Louisville storefront
For more information about the week's events visit our Facebook and Twitter. Engage with the conversation using #PopUpBrits.
The week's events are planned in close coordination with the generous assistance of local partners including Louisville's Office for Globalization and Greater Louisville Inc.
UK and Kentucky by the numbers:
in 2011, Kentucky exported more than $1.5 billion in goods to the United Kingdom, making Britain Kentucky's second largest international customer (behind Canada).
UK companies employ nearly 9,000 Kentuckians (third behind Japan and Germany).
the United Kingdom has invested over $1.2 billion into Kentucky's economy (second only to Japan).
To explore more about the trade relationship between the United Kingdom and the US, visit our new UK-US trade map.
Published 26 February 2013