World news story
UK Government Chief Scientific Adviser launches the Longitude Prize in China
From:

Part of:

Published:

8 September 2015
Sir Mark Walport, UK Government Chief Scientific Adviser, has launched the £10m Longitude Prize in China at a Science Salon on Anti-microbial Resistance in Beijing.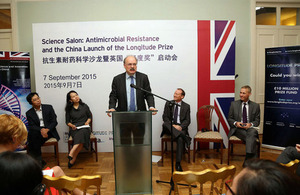 On 7 September, Sir Mark Walport, UK Government Chief Scientific Adviser, launched the £10m Longitude Prize in China at a Science Salon on Antimicrobial Resistance (AMR) at the British Ambassador's Residence in Beijing.
Speaking alongside Nigel Gibbens, the UK Chief Veterinary Officer, Dr Sun Jing from Peking Union School of Public Health and Professor Zheng Bo from Peking University First Hospital, Sir Mark emphasised the importance of tackling AMR, widely acknowledged to be one of the biggest global health threats of the 21st century.
The misuse and overuse of antibiotics means that common infections such as pneumonia and tuberculosis are becoming increasingly resistant to existing treatments – which in some cases no longer work at all. As the National Institute for Health and Care Excellence recently recommended, we need the "right antibiotic, at the right dose at the right time".
One way of tackling this will be through developing diagnostic tools that allow doctors to administer the right antibiotics at the right time, reducing overuse, and this is what the Longitude Prize aims to promote.
The Longitude Prize is open for anyone to compete. It is a historic challenge with a £10 million prize fund that aims to conserve antibiotics for future generations. The challenge is to develop a cheap, accurate, rapid and easy-to-use point of care test that will identify when antibiotics are needed and, if they are, which ones to use. Sir Mark said:
Anti-microbial resistance is one of the most urgent health challenges of our time, and I hope the Longitude Prize will inspire innovators in China, the UK and across the world to develop tools to solve this problem.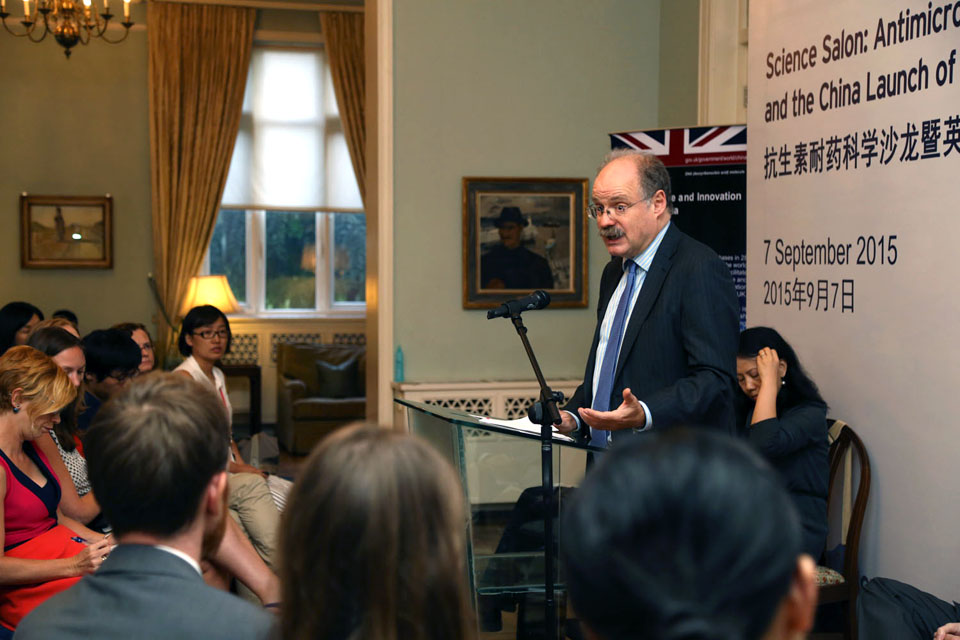 Nigel Gibbens highlighted that AMR also needs to be tackled through a 'One Health' approach that captures the human, animal and agricultural dimensions of the issue, since drug-resistant microbes and resistant genes circulate between humans, animals, water and the broader environment, presenting a serious threat to public health.
AMR is a personal priority of our Prime Minister David Cameron, who last year asked Lord Jim O'Neill to lead a Review on AMR. Lord O'Neill's work has estimated that in China alone drug-resistant infections could cause close to 1 million deaths annually by 2050, with an estimated cumulative GDP loss of US$20 trillion.
The UK and China have been working together on AMR since 2013. We held an inaugural AMR conference in March 2014 in partnership with Peking First Hospital, and have a series of projects which look at different aspects of AMR.
More information on the Longitude Prize is available at https://longitudeprize.org/
Document information
Published: 8 September 2015