UK Government announces dedicated media service for 2012 Games
Today sees the UK government launch a set of dedicated web pages designed to give the world's media a single point of access for all government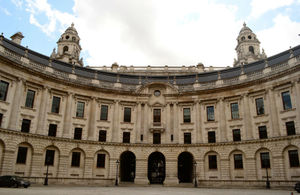 Today sees the UK government launch a set of dedicated web pages designed to give the world's media a single point of access for all government-related news stories leading up to and during the 2012 Games. The pages are the first part of wider plans to ensure the world's media receive a first class service from the UK government.
The pages, which will evolve into a virtual media centre for the Games in early 2012, will present journalists with a regularly updated London 2012 news section, background information and key facts, information about logistics, an image library and video archive. Between now and the end of the Paralympic Games next September, the site's content will be frequently updated and will offer the world's media:
news about the positive changes the Games are making across the UK
behind-the-scenes views on the Government's role in the UK's Games preparation
a chance to discover the true face of the UK
The service is being provided by the Government Olympic Communication (GOC) team. During the Games the GOC team will be the single point of contact for all media enquiries and requests about the Government's role in delivering the Games. Tailored information will be available on how the UK Government has prepared the country; the positive impact the Games will have on Britain; and what the cultural, entrepreneurial and physical face of the UK truly looks like. This service will be available from 14 May 2012.
Secretary of State for Culture, Olympics, Media and Sport Jeremy Hunt said:
"With London 2012 set to be the biggest media event in history, the UK Government is doing all it can to ensure the world's media have everything they need.
"Delivering an outstanding Olympic Games is not just about building world class facilities and infrastructure; it's also about making sure the media can bring the sporting, cultural and human interest stories to homes across the world as quickly as possible.
"These pages, plus the Government Olympic Communication Media Centre next year, will play crucial parts in making this Games the easiest to access for the media and their audiences. Between now and the start of the Games we will continue to work with media partners to ensure we're doing all we can to meet their needs."
The pages can be found at www.culture.gov.uk/2012newsroom and journalists will be able to sign-up and subscribe to the themed news alert service from 24 October.
Press Enquiries: 020 7211 2210
Out of hours telephone pager no: 07699 751153
Public Enquiries: 020 7211 6000
Published 27 October 2011