Press release
UK Government action to boost North Wales powerhouse
Alun Cairns: "The UK Government has an economic plan for North Wales and we are determined to create the right conditions for growth."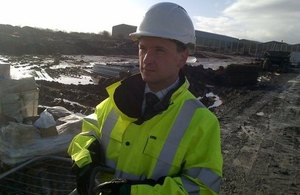 Wales Office minister Alun Cairns today (30 January 2015) hosted a transport summit with business leaders in North Wales to discuss maximising the opportunities for economic growth in the region.
The event gave businesses, the transport industry and government a platform on which to discuss the infrastructure required in North Wales and produce a joint plan to strengthen the case for rail electrification.
Welsh Secretary Stephen Crabb announced in November that he would make the case for North Wales rail electrification to colleagues at the heart of Government and today's summit will helped explore exactly what is needed to make that happen.
The transport summit comes only weeks ahead of a report into rail electrification in England by the Northern England Electrification Task Force and attendees discussed the case for a joined-up rail network with English cities to boost the North Wales economy.
Alun Cairns said:
The UK Government has an economic plan for North Wales and we are determined to create the right conditions for growth. I want to link North Wales to the English cities so we can trade, grow, attract private investment, and attract the best people to the region.

Business leaders in North Wales are the driving force behind the recovery in Wales and the people that are making North Wales our own Northern Powerhouse. We need to work together to create economic growth, jobs and opportunities for hardworking people in Wales.
Attendees also discussed road links in North Wales, particularly cross-border routes and Alun Cairns will share the recommendations of discussions with colleagues in the Department for Transport. The benefits to North Wales of the Halton Curve and HS2 were also covered.
Later in the day Alun Cairns visited the site of Wrexham prison to see how work is progressing and host an Employment and Skills Symposium at Glyndŵr University, Wrexham from 12. The event brought together local authorities, work and education providers from across North Wales and neighbouring counties in England to discuss how to deliver the commitments relating to apprenticeships, work placements and local employment in a coordinated and accessible way. Mr Cairns highlighted the benefits to the local economy and the efforts being made by the UK Government to sustain local jobs in the supply chains.
Alun Cairns said:
Wrexham Prison provides an excellent opportunity to generate jobs and growth in North Wales. 280 construction related businesses attended our procurement event last year and already £1.1 million pounds has been assigned to local businesses – well above the target expected this early.

With over 75 per cent of those employed on site from the local area, the North Wales economy is already feeling the benefit and I am confident that through our ambitious plans, it will continue to do so over the coming months and years.
Published 30 January 2015