World news story
UK gives Zambia £25m to support conservation farming
Speaking at the launch of the Climate Smart Agriculture Zambia in Chibombo today, Ms Emma Donnelly, Head of DFID Zambia said: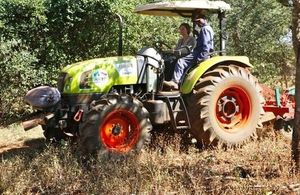 "Two thirds of the labour force in Zambia is engaged in agriculture, 78% of whom are women farmers. With Zambia's great untapped agriculture potential, increasing the productivity and incomes of farmers is an effective way to support inclusive growth and reduce poverty. And by increasing farmers' ability to withstand droughts in the face of increased temperatures, reduced rainfall and more extreme weather DFID will help farmers to maintain their standard of living even during dry spells."
The UK Government through the Department for International Development (DFID), will work with the Conservation Farming Unit (CFU) to support rural Zambian farming families to improve livelihoods through building their resilience to climate change. The CFU is a not-for-profit Zambian organisation established to promote climate smart agricultural practices and policies and has previously been funded by the Royal Norwegian Embassy.
The programme which has been named 'Climate Smart Agriculture Zambia (CSAZ)' will run for five years – 2016 to 2020. DFID will provide £25 million for this programme which is expected to benefit more than 600,000 small and medium scale farmers.
The main activities the programme will undertake are, * Training farmers in climate smart agriculture techniques, enabling them to understand the steps involved in applying the technology and the benefits they would get; and * Facilitating commercial relationships between farmers and private sector providers of agricultural services and inputs such as use of machinery and herbicides - both of which are critical for the adoption and sustainability of climate smart agriculture practices.
Climate smart agriculture has the potential to bring about huge benefits to women farmers such as reductions in labour demand. This enables women to grow alternative crops used either for home consumption or selling on the market to improve incomes for the households.
Conservation Farming is a farming technique introduced in the US Dustbowl in the 1930s to reduce erosion, and has since been adopted in many developing countries because of its potential to protect water and soil resources, while increasing productivity and yields.
Further information
The Department for International Development (DFID) leads the UK Government's fight against world poverty and is a committed development partner in Zambia.
DFID works directly to make progress towards the most off-track Social Development Goals, including extreme poverty, gender, maternal mortality, sanitation and hygiene.
We are increasing the demand for accountability by strengthening citizens' and civil society's voice, building on the media and civil society freedom.
To address jobs and productivity as key binding constraints to Zambia's transition, we have programmes aimed at removing barriers to wealth creation and investment to create a sustainable future for Zambia.
For further information contact the Press and Public Affairs Section on +260 211 423200 or Alfred Kapalayi on +260 955 945771 email: Alfred.Kapalayi@fco.gov.uk