World news story
UK further supports Guatemala's fight against impunity
The United Kingdom signed a new contribution of US$39,000 (300,000 quetzals) for the International Commission against Impunity in Guatemala -CICIG- to continue its work in support of the country.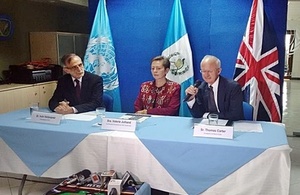 With this new release the British people will have contributed 3.35 million quetzals in favour of the fight against impunity in Guatemala.
The British Ambassador to Guatemala, Mr. Thomas Carter, reiterated his country's commitment to continue fighting against the core problems that are affecting the development of Guatemalans. Amongst these, the United Kingdom has also actively supported improvements in the investigative capacities of the Guatemalan authorities and the prisons system.
To mark this contribution to CICIG, the British Ambassador to Guatemala, Thomas Carter, said:
We want to keep supporting CICIG in taking the necessary steps to tackle impunity in the country and work together with the Guatemalan authorities in strengthening the justice system.
The Commissioner of the CICIG, Mr. Ivan Velasquez, thanked the contribution of the United Kingdom and said:
This support is to strengthen the fight CICIG delivers daily along with the Public Ministry to carry out the research processes according to its mandate.
The Resident Coordinator of the United Nations System in Guatemala, Mrs. Valerie Julliand, thanked the confidence that Britain has had on the mechanism to support CICIG through the United Nations and reiterated its commitment to continue supporting the country according to its priorities.
Published 7 October 2015