World news story
UK funds projects to promote STEM education for girls
Two projects seek to break gender stereotypes and empower girls in STEM areas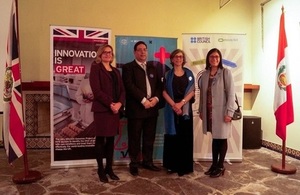 On the International Day of the Girl Child, the British Embassy in Lima launched two projects funded by the British government aimed at breaking gender stereotypes and empowering girls in STEM (Science, Technology, Engineering and Mathematics).
The first project, "STEM is for girls", implemented by En Órbita, seeks to tackle stereotypes in education, by training 80 professional women in STEM in communication skills and leadership, enabling them to give motivational talks to 4th and 5th grade girls in secondary schools and raise their interest in STEM. Inspirational videos will also be available to teachers in public schools.
The "Girl Power Codefest" project, led by the British Council, is an initiative that is being carried out in Pacific Alliance member countries. Girls between the ages of 10 and 13 have been receiving training since August in Micro:bit, a coding program created by the BBC, aimed at developing new software and applications, and to introduce girls to the world of computer technology. The project will end with a simultaneous Hackathon in Peru, Mexico, Colombia, and Chile.
Present at the inauguration at the British Residence were British Ambassador, Kate Harrisson, Interim Director of the British Council Peru, Ralph Grayson, and the President of En Órbita, Gisella Orjeda.
Published 19 October 2018