World news story
UK funds over 50 new scholarships for 2015/16
High Commissioner honours Uganda 2015 Chevening & Commonwealth Scholars & Fellows & invites applications for 2016
The British High Commissioner, HE Alison Blackburne, hosted a reception on 27 August to honour this year's recipients of the prestigious, UK-government funded Chevening scholarships and Commonwealth Scholarships and Fellowships. The High Commissioner also encouraged those wishing to study at Masters level at UK universities to apply for 2016/17 Chevening Scholarships, for which the application window is now open.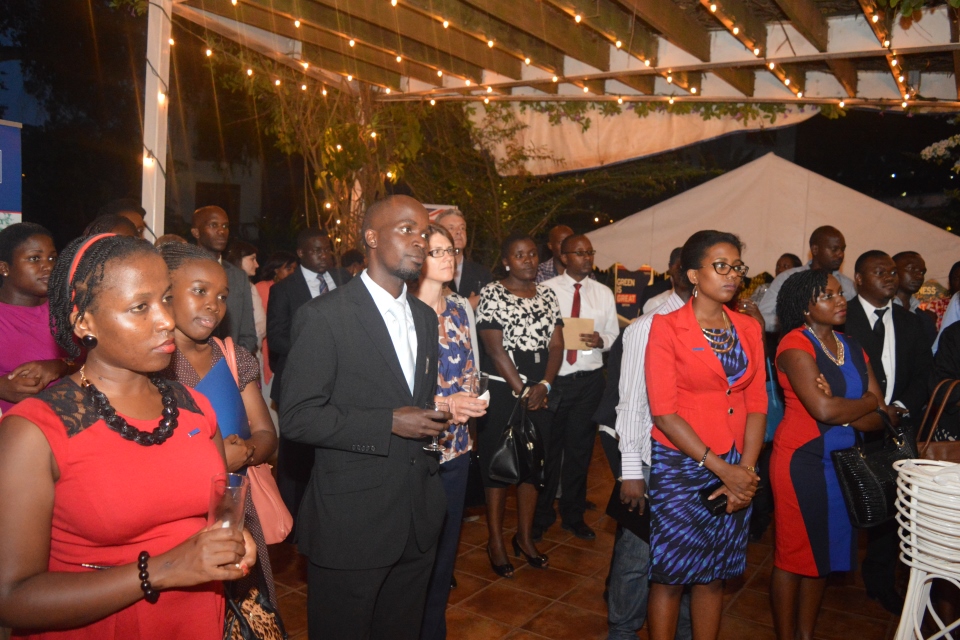 The reception also honoured recipients of other UK scholarships provided by British companies and universities. It was attended by alumni of the Uganda Chevening Scholarships, academics, government officials and members of the diplomatic corps. The new Scholars took the opportunity to network with alumni and other professionals working in their fields.
Earlier in 2015 the UK government announced that it was tripling the number of Chevening Scholarship awards to developing countries for the academic year 2015/2016. As a result, the number of Chevening Scholarships awarded to Ugandans has increased to 10, compared to two Scholarships in 2014/15.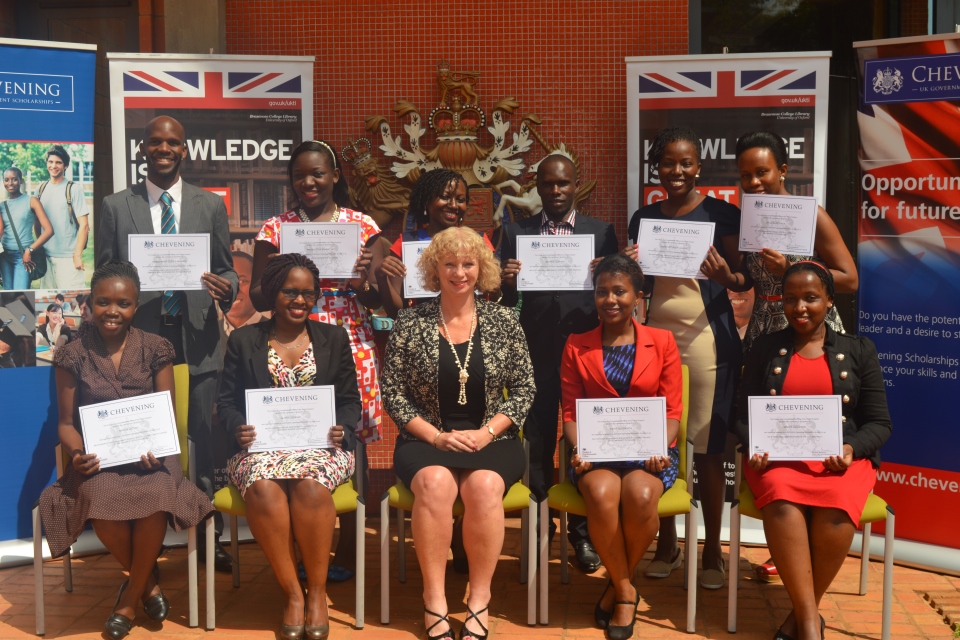 The new Scholars were selected on the basis of their academic and leadership potential. Next month they will begin their studies at some of the best universities, in the UK, including the University of Cambridge. They will pursue Masters courses in the fields of oil and gas, communications and medicine.
During her speech at the event, the High Commissioner said:
"This significant increase in the number of Chevening Scholarships underlines the UK's commitment to building stronger, lasting relationships with Uganda, and with those who will shape and lead it in future
"Studying in the UK gives an individual the opportunity to learn from the best: four of the world's top six top universities are in the UK, according to the latest QS World University Rankings.
"The application window for 2016/17 Chevening Scholarships is now open, via the Chevening website. We are looking for future leaders in the fields of human rights, journalism, oil and gas and security sector reform. I encourage anyone who believes they have what it takes to apply for these prestigious awards. The deadline is 3 November."
Addressing the new scholars and fellows, Peter Brown, Director of the British Council in Uganda, said:
"Congratulations as you embark on what will be a fantastic adventure in the UK. It's a great opportunity for you all to benefit from what is a top class international education, but also a real inter-cultural experience.
"You'll return to Uganda with an increased international outlook and enhanced leadership potential in your respective fields."
Application window now open:
The British High Commission is seeking applications for next academic year's Chevening Scholarships from well-qualified applicants. Applications must be submitted by 3 November 2015. More information is available at www.chevening.org/uganda.
Published 28 August 2015