UK funding of drought relief in Tuvalu
The United Kingdom, together with Australia and the United States of America, has announced funding for a new desalination system to relieve the effects of drought in Tuvalu.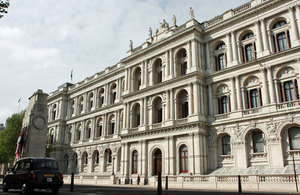 The system, which will run on solar power, is expected to be in place by mid November and will produce 40,000 litres of water per day. It has been designed to meet short-term water requirements over the coming months but will also provide a sustainable, long-term solution for a country which has experienced severe drought consistently over the past three years.
Foreign Office Minister Jeremy Browne said:
"The State of Emergency in Tuvalu has led to a great many problems for ordinary people and I am delighted that the UK, with its international partners, has been able to help with a solution.
"For an island country, desalination plants can be a valuable and continual supply of water. With the added benefit of being solar powered, this plant should support local populations for many years to come.
"Providing this assistance illustrates the long-term commitment of the international community to helping Tuvalu overcome its challenges. I hope that Tuvalu also values this opportunity to deepen its relationship with its long-term partners and work together with us on a wide range of international issues.
"Funding has been co-ordinated with that of other international donors to ensure that it is targeted and fits within a wider UN co-ordinated response to Tuvalu's drought. It comes with a commitment from governments worldwide to help the people of Tuvalu during one of their worst periods of drought in living memory."
This project has been driven and co-ordinated by the United Kingdom with logistical assistance from the United Nations Development Programme (UNDP). The United Kingdom is proving £51,000, which constitutes around forty per cent of the total project cost.
Published 1 November 2011