World news story
UK funded international forum in Panama on tackling corruption in public procurement
Panama City will host the regional Latin America and the Caribbean Forum on tackling corruption and collusion in public procurement with participation from Guatemala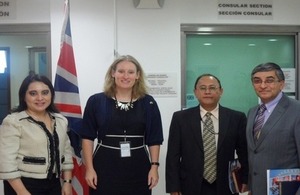 The agenda includes important areas such as how to overcome potential conflicts when implementing anti-corruption and anti-collusion strategies; measuring the costs and impact of illegal activities in public procurement; the use of the technology; and sharing international guidelines to detect and to prevent fraud, corruption and collusion in public procurement processes.
International organizations have repeatedly highlighted the problems of collusion and corruption in the procurement process and state acquisitions in Latin America and the Caribbean, that, amongst other things, have significantly reduced the efficiency of public spending and affecting value for money. By improving the strategies for prevention, increasing the capacity to be able to comply with regulations and standards, and improving the use of expert report, governments across the region, could ensure significant savings in procurement and public expenditures.
Over 150 financial regulators, prosecutors, officers of the public trade, and policy makers, are anticipated to attend the forum, which will be held in Panama City from 10 to 13 of September. During these four days, about 15 international experts will lead a series of workshops, seminars and presentations to: discuss key lessons learnt from recent high profile cases of fraud in public procurement; prevention and risk-management strategies; share guidance on compliance with international standards and regulations on public procurement, such as those stipulated in the United Nations Convention against corruption by OCDE, the World Bank, and the Inter-American Development Bank.
The conference organized by the UK consulting firm, the International Governance and Risk Institute (GovRisk), is an initiative of the British Government through the British Embassy in Panama City, and the Panamanian authorities and institutions of transparency, access to information and procurement.
The British Embassy in Guatemala, as part of its support to development programmes under its prosperity agenda, is funding the participation of three officials from the central government: Ms Ana Gabriela Cruz, Advisor of the Direction of Regulations for State Procurements (DNCAE); of the Ministry of Public Finance; Mr Edgar Sierra, Adviser to the Presidential Commission on Transparency and Electronic Government (COPRET); and Mr Francisco Antonio Ericastilla, Chief of the Department of Concurrent Audits at the Guatemalan State Audit Agency of the Government.
This initiative is funded as part of Prosperity Fund of the UK Foreign and Commonwealth Office, which aims to increase exports and investment, to open markets, to secure access to resources, and to promote global sustainable growth.
According to Sarah Dickson, British Ambassador to Guatemala "Transparency in public procurement is vitally important as it prevents corruption and stops resources from being diverted away from where they are most needed. The UK believes that bringing together state suppliers, procurement officers and the private sector to discuss the challenges they face in this area, will be a key step towards reducing corruption and achieving sustainable growth".
Published 11 September 2013
Last updated 13 September 2013
+ show all updates
Updating it
Added translation