World news story
UK Fund for Science, Innovation and Technology in Peru
Fund aims to build the UK and Peru research and innovation collaborations centered on shared research and innovation challenges.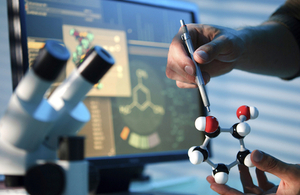 The UK Fund for Science, Innovation and Technology aims to build the UK and Peru research and innovation collaborations centered on shared research and innovation challenges, which have direct relevance to Peru's social welfare and economic development.
The British Embassy in Lima expects this Fund will help establishing links between these countries that will open up opportunities for more sustainable, solution-oriented research and innovation collaborations between academic groups as well as with the private and third sector.
1. What we are looking for
We are looking for a delivery partner to design and implement a programme that brings together UK/Peru research centres, researchers and other organisations involved in the Science, Innovation and Technology systems in both countries in the priority areas specified in Annex A, to:
• initiate new research and innovation collaborations between academic groups, departments and institutions in Peru and the UK; and/or develop existing collaborations at group, departmental and institutional level,
• encourage these collaborations to work with non-academic organisations and individuals to support the exchange of research and innovation expertise and the translation of research knowledge into tangible benefits,
• build links for future collaborations between the UK and Peru,
• build research capacity in Peru,
• enhance Peruvian researchers' career opportunities,
• establish local hubs for UK-Peru activity in a particular area, enabling engagement from the wider research and innovation community.
All activities will have the following three overarching objectives:
• Support international development-relevant research – in areas relevant to the economic development and welfare of Peru.
• Contribute to capacity building of researchers –contribute to the personal and professional development of the beneficiaries, and include any plans for long-term mentoring of early career researchers (either within each country, or cross-nationally).
• Establish new research links or significantly develop existing links, with the potential for longer term sustainability –to stimulate longer term links between the UK and Peru.
2. The delivery partner will be responsible for:
Designing, develop and deliver the programme, including, but not limited to running bidding process if required; monitoring of activities, etc.

All logistical and other coordination needed to deliver the programme

Financial management and reporting to the Embassy.

Proactive approach to outreach researchers and research centres in the UK and in Peru to promote their involvement and participation in the proposed programme

Incorporate Peru's Science, Innovation and Technology Government Agency (Concytec) throughout the programme implementation, in a knowledge transfer process

Advertising and promotion of the programme through different channels, and in coordination with other organisations.

Approaching proactively potential projects bidders in the UK and in Peru and supporting them in preparing their project proposals.

Coordination with the Fund Board (which will be defined by the Embassy and its partners) and with the British Embassy in Lima.
3. What organisation can be a delivery partner
Any UK based organisation with presence in Peru and deep knowledge and a good network with the scientific, academic and innovation community in both countries. UK organisations with strong partnerships with a local Peruvian based organisation will also be considered. The delivery organisation must have wide experience designing, managing and implementing similar workshops in the Latin America region, and a sound financial situation.
Eligibility • Programme proposals must contribute directly to the objectives set in section 1 of this document.
• The primary beneficiary of the programme proposal must be Peru (included in the OECD DAC list).
• Proposals should outline impact. We want to know what changes the programme will achieve in the long term.
• Programme proposals must be submitted in the Full Bid template. Project Proposal Form - For projects worth over £80,000 (MS Word Document, 144KB)
• Project ideas must be accompanied by Activity Based Budget proposals. Activity Based Budget proposals - UK Fund for Science, Innovation and Technology in Peru (MS Excel Spreadsheet, 23.4KB) Available budget: interested implementers can use a reference the available funding which is £350,000.
• There's a cap for covering administrative costs of 10% of the total budget. Administrative costs include expenses related to programme/projects managers, coordinators, assistants; office materials, phone, etc.
• Activities can take place in Peru and/or in the UK
• The Fund operates in financial years. The 2015/2016 financial year runs from 1 April 2015 through to 31 March 2016. Programme/projects should take place between June 2015 and March 2016.
5. Bidding Process
• Deadline to submit programme Full bids is May 29th, 2015 via email to BEprojectsPeru@fco.gov.uk
• The results will be announced and successful bidder will be informed to begin implementation by mid June 2015.
6. More information
To ask for a meeting of more information, please write to BEprojectsPeru@fco.gov.uk
Published 25 May 2015