World news story
UK Foreign Office Minister of State, Baroness Anelay, visits UK-funded project that helps girls at risk of violence
UK Minister of State for the Foreign and Commonwealth Office, Baroness Joyce Anelay, visited today a British Embassy-funded project at the Urban Official School Jose Miguel Vasconcelos.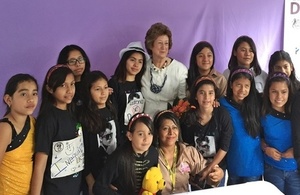 The project helps girls at risk of violence and aims to keep them in school, away from gangs, and protect them from sexual abuse.
The investment of more than 800,000 quetzals will develop a programme for groups of young girls between the ages of 8 to 11 and 12 to 16. Through the use of educational workshops, recreational activities and sharing life experiences, the girls will receive encouragement to set objectives and achieve specific goals. Around 85 girls at risk of violence will be selected to participate in the programme.
The two-year project will be implemented by the Municipalities of Guatemala City and Mixco, and Glasswing International, a global organisation that addresses the root causes of poverty and violence through education, health and community empowerment. Another participant of the initiative is the Population Council, which provides the methodology and technical support to evaluate progress.
According to official statistics, in Guatemala one in five young girls under 17 years old is already a mother; and it is also increasingly common for gangs to recruit children to involve them in illicit activities or drug trafficking.
As the Minister responsible for human rights, Baroness Anelay emphasised the UK's commitment to work around the world to prevent all forms of violence against women and girls. To mark her visit to the project the Minister said:
The violent environment in which some girls live prevents them from having an education, reduces their chance of earning a living and reaching their economic potential, and removes their choice over how many children they want to have and when. I hope this project will have a positive impact on these young girls and their families, and give hope for a brighter future where young women have a voice, choice and control in deciding how they want to live their lives.
Published 12 December 2016