World news story
UK Foreign Office Minister for Asia visits Naypyidaw, Myitkyina and Rangoon 28-30 January
UK Foreign Office Minister for Asia Hugo Swire arrives in Burma on Tuesday 28th January for a three-day visit.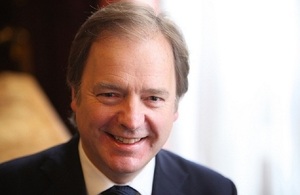 This is his second visit to Burma, following his trip in December 2012.
In Naypyidaw on 28 January, Mr Swire will meet Union Government Ministers, (the Commander-in-Chief of the Tatmadaw Senior General Min Aung Hlaing), the Speaker of the Union Parliament Thura U Shwe Mann, and Chairman of the National League for Democracy Daw Aung San Suu Kyi. He will welcome Burma's ongoing reforms, and emphasise the importance of constitutional amendments to ensure fair and credible elections in 2015. He will also raise serious concerns about the latest violence in Rakhine State.
On 29 January Mr Swire will visit Myitkyina, Kachin State, where he will meet State Government Ministers, the Northern Commander of the Tatmadaw, the Kachin Independence Organisation, Shan community organisations, and religious leaders, to discuss the peace process. He will also visit Internally Displaced Persons camps outside Myitkyina, where the UK government is funding humanitarian aid.
On 30 January Mr Swire will deliver a major speech on the UK and Burma at Rangoon University's Diamond Jubilee Hall. Earlier in the day, he will discuss the situation in Rakhine State with the leaders from both communities, and meet with British businesses following a tour of Rangoon General Hospital.
Burma is Mr Swire's first stop on a five-day tour of South East Asia.
Note to editors:
Mr Swire will deliver a speech at Rangoon University on Thursday 30 January at 11.45am. Media who are interested in attending should contact
Moe Kyi Phyu, Tel: +95 1 370863, 370864, 370865 Ext: 2254 or Moe.KyiPhyu@fco.gov.uk
For all other inquiries please contact Moe Kyi Phyu on +95 1 370863 or Joe Fisher on+95 9 5151452
Published 27 January 2014