World news story
UK Foreign Office Minister Baroness Warsi visits Oman
Baroness Warsi visits Oman to hold talks with Omani officials and deliver a keynote speech on religious tolerance.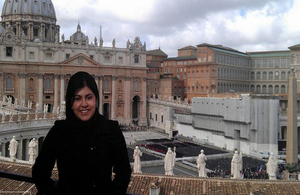 We warmly welcome the arrival of Minister of State for Faith and Communities and Senior Minister of State Baroness Warsi to the Sultanate of Oman today. Her speech at the Sultan Qaboos Grand Mosque on religious tolerance aims to highlight the example that Oman provides for other countries of how to put aside argument between religious groups and pursue mutual respect and understanding.
Baroness Warsi will also meet the key players in the Islamic Finance sector, to highlight the opportunities. The UK has one of the most advanced financial sectors in the world, and provides a level playing field for Islamic Finance. There are over 20 banks in the UK providing Islamic Finance products and services, of which 6 are fully Islamic. The opportunities for partnership between the UK and Oman are therefore plentiful.
Published 17 February 2014