UK Foreign Minister Baroness Warsi visit to Pakistan
Baroness Sayeeda Warsi has emphasised the importance of credible elections and protecting women's rights in Pakistan.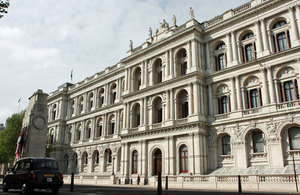 The Rt Hon Baroness Sayeeda Warsi today ended her three-day visit to Pakistan. This was her first as UK Senior Minister of State for Foreign and Commonwealth Affairs and her sixth visit as a British Minister.
During her visit Baroness Warsi met with President Zardari, Prime Minister Ashraf, Deputy Prime Minister Ellahi, Foreign Minister Khar and Defence Minister Qamar, and discussed the "UK-Pakistan Enhanced Strategic Dialogue", improving bilateral relations, and strengthening democracy and human rights.
Baroness Warsi said:
_
"I am glad to be back in Pakistan, especially at such an important time. The upcoming elections are a crucial milestone in Pakistan's democratic history, the first time in decades that there will have been a transfer of power from one civilian government to another. It is my hope that these elections will be a moment that people look back on and say this is when the trajectory of Pakistan changed.
"I believe that a strong, stable, constitutional democracy and a legitimate transfer of power in the upcoming elections are firmly in Pakistan's interests. In all my meetings, I have stressed the need for all politicians to work towards elections that are free from violence and fraud, and for citizens to be able to vote without intimidation. This will be vital to building citizen's trust in the electoral process and the credibility of the resulting government."
_
Baroness Warsi also met political leaders including the Chairman of Pakistan Muslim League - Nawaz (PML-N) Mian Nawaz Sharif; the Chairman of Pakistan Tehrik e Insaf (PTI), Imran Khan;the Provincial President of Awami National Party (ANP), Senator Afrasiab Khattak; the President of the Pakistan Muslim League - Q, Chaudhry Shujaat Hussain; the Parliamentary leader of the Muttahida Qaumi Movement (MQM), Farooq Sattar; and Ameer of Jamaat ul Islam - F, Maulana Fazlur Rehman.
During the visit Baroness Warsi highlighted the UK's lasting commitment to Pakistan and said:
_"We encourage all political parties to use the start of the new parliamentary term, when political support is likely to be at its greatest, to tackle the challenges that Pakistan continues to face.
"The new government, whatever its makeup, will face some real challenges in its first 100 days that include a difficult economic situation and critical energy shortfalls. In my meetings I committed the UK to working closely with Pakistan on these challenges. Where appropriate, we can share our experiences of the need for tough budget decisions to deliver future growth and prosperity.
_
Commenting on the depth of the bilateral relationship Baroness Warsi said:
_"The UK and Pakistan have built a relationship based on mutual respect, interests and trust. In April 2011, the Prime Minister signed the "UK-Pakistan Enhanced Strategic Dialogue" to mark a new chapter in the relationship between our Governments and our peoples. Prime Minister Cameron called this a "Naya Aghaz", forming an unbreakable bond of friendship between our two countries.
"In your fight against terrorism, our Prime Minister, David Cameron once said that "your enemy is our enemy" and I re-iterate that sentiment today. Pakistan has lost 30,000 citizens in that fight, the terrible attack on Malala is just one example of the human price Pakistan is paying. The UK will continue to stand shoulder to shoulder with Pakistan in the fight against terrorism."
"Our bilateral relationship is going from strength to strength. We will continue to help Pakistan face its challenges and that support will not waver._
Baroness Warsi also visited the Election Commission of Pakistan, where she discussed the electoral process, voters registration and preparations for the general elections with Mr Ishtiak Ahmed Khan, Secretary of the Commission.
Following her meeting at the Election Commission of Pakistan, Baroness Warsi emphasised:
"We warmly welcome the proactive role played by the Election Commission of Pakistan (ECP). Now the credibility of the elections will depend on all parties respecting its independence and the ECP Code of Conduct."
Following her meetings with political party leaders, Baroness Warsi said:
_"We call on all political parties to ensure that elections are free from violence, intimidation, corruption and fraud. This is vital to building trust in the electoral process and the credibility of the future federal and provincial governments.
Democracy requires full participation from across all communities in Pakistan, particularly women, in determining their choice of government."_
Published 7 November 2012