UK forces killed in 2009 remembered at National Memorial Arboretum
Hundreds gathered at the National Memorial Arboretum in Staffordshire on Saturday for a dedication ceremony paying tribute to the 119 British forces personnel killed on active service during 2009.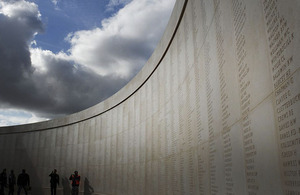 His Royal Highness The Earl of Wessex and Defence Minister Andrew Robathan attended the service at the National Memorial Arboretum in Alrewas, Staffordshire.
The service was led by Bishop John Kirkham and attended by more than 500 family members who walked solemnly past the names of the fallen engraved in the walls.
Addressing those gathered, the Venerable Ray Pentland QHC, Chaplain-in-Chief at the Royal Air Force, described the process of remembrance as 'very precious and special', adding that it 'helps to give us a foundation'.
2009 saw the largest number of UK Armed Forces deaths in the last twenty years and the highest number of Army deaths since the Falklands conflict in 1982.
The Armed Forces Memorial, dedicated in the presence of Her Majesty The Queen in 2007, is the UK's tribute to the 16,000 men and women who have been killed on duty or as a result of terrorist action since 1948.
The memorial has space for 15,000 further names and one of its most poignant features until now was its remaining blank wall.
Given the number of deaths in 2009, it has been necessary to commence engraving on this wall.
A spokesman for the National Memorial Arboretum said:
Today is an important day for the country to recognise those that made the ultimate sacrifice for their country.
Emma-Jane Webster, whose fiance, Lance Corporal Richard Brandon, was killed in Afghanistan in September, said the memorial was 'absolutely spectacular'.
It's wonderful recognition for what he did and what he believed in.
Published 7 June 2010