News story
UK firms urged to boost Russian trade
Russia is already one of Britain's fastest growing export markets and trade is expected to grow further in the coming years. Commercial announcements…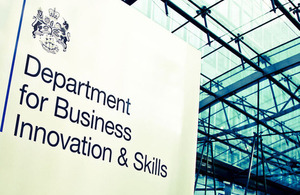 Russia is already one of Britain's fastest growing export markets and trade is expected to grow further in the coming years.
Commercial announcements made at today's UK-Russia Intergovernmental Steering Committee on trade and investment, held in London, include:
Manufacturing firm Tensar to build a plant in St Petersburg in a £12m project, helping to safeguard more than 150 jobs in Blackburn, Lancashire

Construction firm Stoneguard to build a waste processing facility in Novosibirsk, in a project worth around £60m

Co-operation agreement signed between UK Export Finance and Russia's Export Credit Agency (EXIAR)
Business Secretary Vince Cable said:
"Britain's trade with Russia is rapidly expanding and the opportunities will only continue to grow as its economy opens up further to trade and investment.
"Important steps like Russia's accession to the World Trade Organisation earlier this year are making it easier for UK firms to do business there.
"We look forward to working closely with Russia to further develop new opportunities, delivering real economic results for both countries."
Russia is now the UK's 14th biggest export market and is one of the fastest growing, with British exports having grown 39% in 2011 to £4.78bn.
During the summer, the British Business Embassy in London promoted business opportunities for UK firms at major upcoming sporting events including the 2014 Winter Olympics and 2018 World Cup, both to be hosted by Russia.
Already this year, examples of deals between Russian and British firms include:
Shell has opened a lubricants oil blending plant in Tver, the first such plant built by an international oil company in Russia, in an investment worth over £60m.

Imperial College London has signed a collaborative research agreement with the Boreskov Institute of Catalysis, supported by the Skolkovo Foundation, for the development of the Centre of applied research for heat exchange intensification. Imperial Consultants, the College's knowledge transfer and consultancy company, is coordinating an Industry Engagement Programme as part of this, facilitating interaction between Russian businesses and the researchers.

In September, Sberbank - Russia's largest bank - listed on the London Stock Exchange. This was the Exchange's fourth largest ever international listing.
**Notes to Editors
**
The Government's economic policy objective is to achieve 'strong, sustainable and balanced growth that is more evenly shared across the country and between industries'. It set four ambitions in the 'Plan for Growth' (PDF 1.7MB), published at Budget 2011: * To create the most competitive tax system in the G20 * To make the UK the best place in Europe to start, finance and grow a business * To encourage investment and exports as a route to a more balanced economy * To create a more educated workforce that is the most flexible in Europe.
Work is underway across Government to achieve these ambitions, including progress on more than 250 measures as part of the Growth Review. Developing an Industrial Strategy gives new impetus to this work by providing businesses, investors and the public with more clarity about the long-term direction in which the Government wants the economy to travel.
BIS's online newsroom contains the latest press notices and speeches, as well as video and images for download. It also features an up to date list of BIS press office contacts. See http://www.bis.gov.uk/newsroom for more information.
Notes to Editors
Contact Information
Name BIS Press Office Job Title
Division Department for Business, Innovation & Skills Phone
Fax
Mobile
Email bispress.releases@bis.gsi.gov.uk
Name Michael Gibbs Job Title
Division Department for Business, Innovation and Skills Phone 020 7215 1635 Fax
Mobile
Published 29 October 2012