UK firms seek new business in Baltic States and Finland
The visit includes meetings with Latvian Prime Minister Valdis Dombrovskis, Lithuanian Prime Minister Andrius Kubilius and Estonian Prime Minister…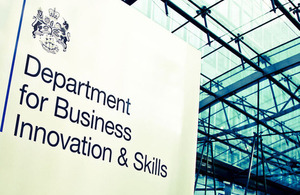 The visit includes meetings with Latvian Prime Minister Valdis Dombrovskis, Lithuanian Prime Minister Andrius Kubilius and Estonian Prime Minister Andrus Ansip, as well as with Economic Ministers in all four countries, a meeting with Finnish telecoms giant Nokia and two Chamber of Commerce events with UK businesses to promote opportunities for British business in the region.
UK Trade & Investment is taking firms from Yorkshire & the Humber to Riga and Vilnius, for a programme of meetings and events, including Chamber of Commerce events with Lord Green in both cities.
Trade and Investment Minister Lord Green said:
"Many UK firms, particularly SMEs, already have good business links with the Baltic States and Finland, however there is clearly potential to develop and strengthen our economic relationship, which is why I am pleased to be visiting this week.
"I will be meeting business representatives from all sectors and Ministers in all four countries to showcase Britain's business excellence.
"In 2012 the eyes of the whole world are on the UK and we are working hard to make sure this year delivers the best possible economic impact for companies across the country. This trade mission and the many others like it are helping us do just that. They are also an important part of our ambition to get another 100,000 UK firms exporting by 2020."
Firms taking part in the Riga and Vilnius business events include:
Thomson Research Associates - a major producer and supplier of antimicrobial products to a global customer base
Transwaste Recycling & Aggregates Ltd - a waste management company that began trading in 2002.
Worn By - a fashion brand specialising in t-shirts
East Riding Farm Services Ltd and Garth Partnership - companies working in animal health in the pig farming industry.
In Lithuania, Lord Green and Andrius Kubilius will visit the Barclays Technology Centre, one of four IT engineering centres providing support for Barclays business activity worldwide.
Exports of goods and services from the UK to the four countries visited this week totalled more than £3.6bn in 2010, while exports of goods alone rose 16.5% to £2.4bn in 2011.
**Notes to editors:
**
Prime Minister David Cameron and Lord Green hosted a UK / Nordic / Baltic Summit last year. For more information, visit - http://www.bis.gov.uk/news/topstories/2011/jan/uk-hosts-nordic-baltic-summit
BIS's online newsroom contains the latest press notices, speeches, as well as video and images for download. It also features an up to date list of BIS press office contacts. See [http://www.bis.gov.uk/newsroom](http://www.bis.gov.uk/newsroom) for more information.
Notes to Editors
Contact Information
Name BIS Press Office Job Title
Division Department for Business, Innovation & Skills Phone
Fax
Mobile
Email bispress.releases@bis.gsi.gov.uk
Name Alex. Hamilton Job Title
Division Department for Business, Innovation and Skills Phone 020 7215 5976 Fax
Mobile
Published 11 June 2012