News story
UK firms announce multi-million pound deals in India
Speaking alongside Indian Road Transport and Highways Minister Kamal Nath, Dr. Cable said that the deals showed the enormous potential offered…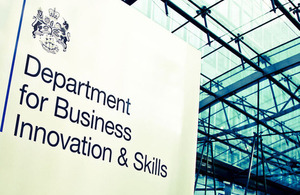 Speaking alongside Indian Road Transport and Highways Minister Kamal Nath, Dr. Cable said that the deals showed the enormous potential offered by partnering with firms in India, predicted to be the fastest-growing economy in the world this year.
Dr Cable said:
"I warmly welcome today's announcements. India is a country where you don't have to be a multinational to succeed. We have superb UK companies operating here in partnership with Indian firms, and I would encourage more UK firms to explore the opportunities here."
Among the deals announced today:
London-based Benoy has won three major projects (two in Bangalore and one in Mumbai) worth over £1.6 million in fees for the international, award-winning British architect. The projects include the first major retail venture for RMZ in Bangalore. GKW Residences, an exclusive 195,000m² luxury residential development in Bangalore, and High Street Phoenix Mumbai, the urban regeneration of a 270,000m2 prime mixed-use site that will become an iconic central landmark for Mumbai. Some 75% of Benoy's workforce of over 100 people in the UK are employed on international projects.

In a multi-million pound deal, Rancore Technologies Ltd has selected Bath-based picoChip's technology for the development of base stations to be used in 4G mobile broadband networks in India and around the world. Rancore will use picoChip's picoArray(tm) PC203 multi-core digital signal processor and picoChip physical layer (PHY) software at the heart of the base stations that will form the foundation of India's next-generation (4G) broadband wireless networks. The company is expanding and planning to double its 150-person workforce by 2012.

Griffon Hoverwork, **a **Southampton-based manufacturer, has won a £34 million contract to sell hovercraft to the Indian coastguard. This constitutes the largest ever order for UK hovercraft and will provide three years of work for the company. The company's business in India is enabling the company to add 110 jobs to its workforce.

London-based Xchanging plc. has signed an agreement with the Indian State Government of Karnataka to build a 2,000 seat processing centre on a six-acre site in a new Special Economic Zone. Xchanging is the first multinational company to set up a centre in a Tier-3 location in India. This will also be a first for 'green technology' based centres.
---
JCB: announced the production of their 100,000th vehicle. One out of every two construction vehicles sold in India is a JCB. Their facility in Ballabgarh is the world's largest Backhoe Loader manufacturing facility. Their UK base is in the West Midlands.
Media contact
For more information, please contact Tessa Fras in UKTI Press Office on 0207 215 8483 or tessa.fras@ukti.gsi.gov.uk.**
---
Notes to editors
UK Trade & Investment (UKTI) is the government department that helps UK-based companies succeed in the global economy. We also help overseas companies bring their high quality investment to the UK's economy - acknowledged as Europe's best place from which to succeed in global business. UKTI offers expertise and contacts through its extensive network of specialists in the UK, and in British embassies and other diplomatic offices around the world. We provide companies with the tools they require to be competitive on the world stage. For more information on UKTI, visit www.ukti.gov.uk or telephone +44 (0)20 7215 8000. For latest press releases, visit the online newsroom at www.ukti.gov.uk/media. You can also keep in touch with developments at UKTI through www.blog.ukti.gov.uk, www.twitter.com/ukti and www.flickr.com/photos/tags/ukti.
Notes to Editors
Contact Information
Name BIS Press Office Job Title
Division COI Phone
Fax
Mobile
Email NDS.BIS@coi.gsi.gov.uk
Published 29 July 2010