World news story
UK extends a warm welcome to Saudis
This was published under the 2010 to 2015 Conservative and Liberal Democrat coalition government
British Ambassador opens new UK Visa Centre in Jeddah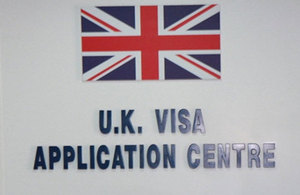 The British Ambassador Sir John Jenkins today officially opened the new UK Visa Application centre in the TasHeel Commercial Center in Jeddah. The centre is custom-designed to put high levels of customer satisfaction at the heart of the UK visa application process. Speaking at the opening in Jeddah, the British Ambassador Sir John Jenkins said:
Our new upgraded centres aim to provide a first class experience for our highly valued Saudi customers. The UK's popularity as a destination for leisure and business continues to grow and we hope that the improvements at all application centers in the Kingdom will help to maintain that trend. Every year we welcome over 100,000 Saudi visitors to the UK and we are looking forward to welcoming even more – Ahlan Wasahlan!
2013 saw a 20% increase in demand for UK visit visas in Saudi Arabia. UK Visa services have opened new and upgraded facilities throughout the Kingdom to ensure an efficient service to their Saudi customers ahead of the busy summer period. Every visa application centre offers standard services, or for an additional fee a VIP lounge which provides a more comfortable and personalised service.
A new application centre opened in Al Khobar in January which is double the size of the previous one and the centre in Riyadh has been refitted, expanded and upgraded. In 2013 over 45,000 visa applications were submitted from the western region. Nick Jariwalla, Regional Manager for UK Visas and Immigration said:
The new centre is a critical part of our drive to improve customer experiences. In the past few years we have moved to a modern online system and introduced additional premium and priority services. The upgraded application centre and VIP lounges complete the transformation, providing a warm welcome and an efficient service to our customers in Saudi.
The UK's target is to process all visit and student visa applications in 15 working days. For an additional fee, a priority service is available which returns a visa in 3-5 working days.
For more information about UK Visa application process, please see this Link