World news story
UK expresses concern over Syrian crisis
Fletcher meets Mikati and discusses grave regional situation, and its impact on Lebanon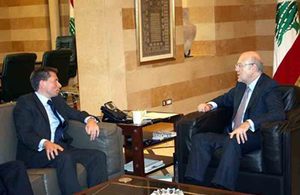 'Caretaker Prime Minister Mikati and I discussed the grave regional situation and its impact on Lebanon.
With the crisis in Syria growing, the next month is a crucial opportunity for relentless politics and genuine dialogue. The G8 Summit, hosted by David Cameron in Northern Ireland - a community that knows the cost of violence - is one chance for key world leaders to change the paradigm. The Geneva process is the only alternative to a long, attritional civil war. Some countries are sending arms to Syria. Britain has not yet decided whether to do so. Our approach will be guided by protection of civilians from extremists in the regime and parts of the opposition.
I raised our concerns about the role of Lebanese fighters in Syria. It is of great sadness that Iran is now sending sons of Lebanon to die for Assad. Those who care most about Lebanese national interests must stand up for neutrality. We have a battle ahead to keep Lebanon out of the war.
The Caretaker Prime Minister also updated me on the postponement of parliamentary elections. We understand the tough context. But it is well known that the international community hoped that elections would take place. At its best, Lebanon has been a democratic talisman in the region. I know that one day we will see Lebanon play that role again.
In the meantime, it is more important than ever that we all support the army, dialogue, and PM-designate Salam's efforts to form a consensus government.'
Published 31 May 2013
Last updated 31 May 2013
+ show all updates
Added translation
Added translation
First published.