UK exporters upbeat about the future
New research shows that small and medium-sized businesses in the UK expect increased exports in the next twelve months.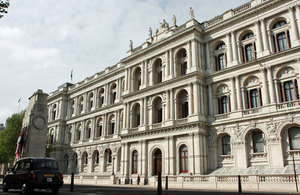 More than 75 per cent of British small and medium-sized businesses are planning to export more goods and services in the coming year to more markets, according to new research from UK Trade & Investment.
More than 200 British companies were surveyed for the research, conducted by the Institute of Directors. A majority of the companies surveyed see exporting as a catalyst for innovation, and believe that it improves their company's profile and credibility. 75% plan to export more over the next twelve months and 80% expect the number of countries they deal with to increase.
Launching the new research, Business and Enterprise Minister Mark Prisk said:
"Exports account for 60 per cent of UK productivity growth and provide genuine benefits for British SMEs. Research shows that firms which export increase their productivity by nearly 35 per cent in the first year alone, they achieve stronger financial performance and are 11 per cent more likely to stay in business.
"Put simply, exporting can be the difference between surviving and thriving for SMEs.
"While today's new report is encouraging, just 1 in 25 British companies are exporting. I want to encourage more SMEs to get exporting, and so grow".
Published 13 October 2010