Press release
UK Export Finance support to British exporters at 12-year high
British businesses received £4.3 billion worth of support from the government through UK Export Finance in 2012-13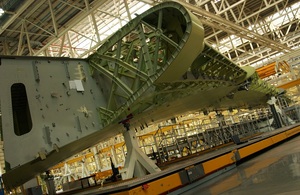 British businesses received £4.3 billion worth of support from the government through UK Export Finance (UKEF) in 2012-13, up from £2.3 billion in the previous year, and the highest in 12 years.
UK industries including aerospace, automotive, oil and gas, and defence have benefited from export credit guarantees and insurance on transactions ranging from as little as £4,000 to as much as £2 billion. This support has enabled UK companies to export to 58 countries across the world, from Abu Dhabi to Vietnam, illustrating the UK's strength as a global exporter.
UKEF is the UK's export credit agency. Its £4.3 billion of support for exports is the highest since 2000-01. Support has been provided for companies of all sizes, from the very smallest micro-firms to large corporations. This includes thousands of SMEs who have benefited indirectly through the supply chains of large customers supported by UKEF.
UKEF support has included:
£2 billion for Typhoon aircraft and spare parts to Oman
£59 million to redevelop a hospital in Ghana for the Ghanaian Ministry of Finance and Economic Planning
£26 million in support for satellites to Russia
£280,000 support for transport consultancy in Gambia
Minister for Trade, Lord Green, said:
UKEF plays an important role in helping boost Britain's exports and is contributing to the healing and rebalancing of the economy.
It's particularly pleasing to see more SMEs taking advantage of the services and products UKEF offers, and I am sure the new network of regional export finance advisers will help more SMEs seize opportunities to export next year.
Acting Chief Executive, David Havelock, said:
Exporting is key to the UK's economic recovery and I am delighted we have had a record year helping an ever increasing number of companies win business in diverse sectors and overseas markets.
The full range of products now available from UKEF enables us to support the financial needs of all sizes of exporters from large multinational customers through to SMEs. This is in addition to the huge number of smaller companies who benefit indirectly through the supply chains of our major customers like Airbus, BAE Systems and Rolls-Royce.
Following on from this record year I am pleased to report that our pipeline for 2013-14 in terms of large project business is the highest for many years and our short term products are gaining real traction in the SME space.
Building on the success of the past twelve months, UKEF has recently confirmed its largest ever project financing transaction to support a prestigious project in the Middle East, in partnership with other export credit agencies. Details will be announced later this week.
The aerospace industry was a significant beneficiary of export credit guarantees in 2012-13, with UKEF providing £1.83 billion of support, illustrating the UK's strength as a global leader in aerospace.
Executive Vice President, Programmes and senior UK representative for Airbus, Tom Williams said:
We must not underestimate the importance of aerospace engineering and manufacturing in the UK which is highly skilled and high value work, as demonstrated by the important role we play in providing a significant contribution to Airbus commercial airliners.
The value of credit guarantees and insurance policies issued by UKEF in 2012-13 is significantly higher than previous years and highlights the export opportunities available to UK companies and the support available from government to help exporters win business overseas. UKEF earned premium income of £133 million in the year, up from £85 million last year and the highest level since 1991.
UKEF provides guarantees to banks offering loans to overseas buyers of UK goods and services and insurance to exporters against the risk of not getting paid. When banks or credit insurers are unable to provide sufficient support, UKEF can step in.
To further boost exports by SMEs, the government committed at Autumn Statement last year £1.5 billion to allow UKEF to launch a direct lending scheme, enabling it to support export loans to buyers of UK goods and services where funding is not available from the banks. This will be the first time in UKEF's history it has been able to offer such support. The government also increased the budget for UK Trade and Investment (UKTI) and set out an ambitious package of support designed to get more SMEs exporting.
In 2011 UKEF introduced new short-term products and enhanced its insurance product to assist exporters, particularly SMEs, overcome bonding and working capital constraints and get credit insurance when not available from the private market. In 2012-13 these assisted 66 exporters including 49 small and medium sized businesses, helping them win contracts worth over £500 million.
Download the UKEF Annual Report and Accounts 2012-13
Media enquiries: Julia Beck, Media Relations Manager
Notes to editors
The UKEF Annual Report and Accounts will be available online at https://www.gov.uk/government/organisations/uk-export-finance from Thursday 20 June.
For more information on UKEF products and services contact one of its network of Regional Export Advisers, details are available here: https://www.gov.uk/government/publications/uk-regional-export-finance-advisors or speak to UKEF's Customer Service Team: telephone: 020 7271 8010, e-mail: customerservice@ecgd.gsi.gov.uk.
UKEF support is not limited to guarantees and insurance policies. UKEF can also provide advice and assistance through its regional Export Finance Advisers on trade finance issues to companies of all sizes. Further advice on exporting and overseas opportunities is available through UK Trade & Investment's network of International Trade Advisors.
UKEF is the UK's export credit agency. It complements the private market by providing assistance to UK businesses, principally in the form of insurance to exporters and guarantees to banks. In doing so, it works with exporters, banks and project sponsors to support UK exports to, and investments in, markets across the world.
The Prime Minister launched the government's 'Exporting for Growth' challenge last year and the government has now set an ambitious goal to increase exports to £1 trillion per annum by 2020.
The government's economic policy objective is to achieve 'strong, sustainable and balanced growth that is more evenly shared across the country and between industries'. It set four ambitions in the 'Plan for Growth' (PDF 1.7MB), published at Budget 2011:

to create the most competitive tax system in the G20
to make the UK the best place in Europe to start, finance and grow a business
to encourage investment and exports as a route to a more balanced economy
to create a more educated workforce that is the most flexible in Europe.
Work is underway across government to achieve these ambitions, including progress on more than 250 measures as part of the Growth Review. Developing an Industrial Strategy gives new impetus to this work by providing businesses, investors and the public with more clarity about the long-term direction in which the government wants the economy to travel.
Published 20 June 2013