News story
UK Export Finance signs agreement with Bancomext
On 19 June 2013 UK Export Finance signed a cooperation agreement with Bancomext, the Mexican export credit agency and national foreign trade bank.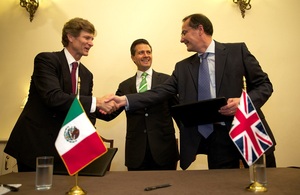 The cooperation agreement sets out how the two agencies will cooperate in the field of export credits. It was signed by Steve Dodgson, on behalf of UK Export Finance, and Enrique de la Madrid Cordero, the Chief Executive of Bancomext. It was witnessed by the President of Mexico, Enrique Peña Nieto, who was visiting the UK for talks during the G8 summit in Northern Ireland.
Snr De la Madrid welcomed the new agreement and expressed his hope that it would provide a foundation to help promote exports between Mexico and the United Kingdom through financing, co-financing and credit guarantees for export transactions of capital goods and services, equipment and other goods of interest to both countries.
Mr Dodgson also welcomed the agreement and said it would help facilitate collaboration between the two organisations on export credit practices and to support projects in third countries that involve exports from both the UK and Mexico, as well as exports between the two countries.
The President spoke of the desire of both governments to double trade between the UK and Mexico and the part the agreement could play to achieve these ambitions.
Media enquiries: Julia Beck, Media Relations Manager
Published 21 June 2013