World news story
UK Export Finance appoints a representative to support Brazil-UK trade
UK Export Credit Agency eyes Brazil as a priority market given the importance of the trade and investment relations between the two countries.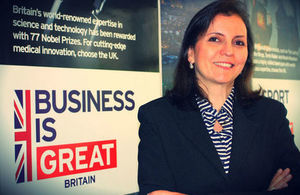 Brazil has become first country in the Americas and the third in the world to have a representative from the UK Export Finance (UKEF) international network, the UK Government Export Credit Agency. Maria Angélica Oliveira Luqueze has been appointed to occupy the newly created position of Country Head of Brazil for UK Export Finance to work locally at the British Consulate-General in São Paulo and to help increase the Agency's efforts to strengthen the UK-Brazil trading relationship.
Established in 1919 as the world's first export credit agency, UKEF helps buyers around the world to trade with UK suppliers by offering attractive financing options. Through its local presence in São Paulo, UKEF is strategically positioned to provide competitive and innovative finance to Brazilian companies doing business with the UK.
The British ambassador to Brazil, Vijay Rangarajan, points out that "the choice of Brazil as one of the first overseas presence of UKEF demonstrates the importance that the UK has given to the development of the country as one of the main bilateral trading and investment partners".
According to Maria Angélica, the country's new representative for UKEF, "the opportunity to access British financial support is extremely important for Brazilian companies at this time due to the resumption of Brazil's economy and potential growth".
Maria is based at the British Consulate-General in São Paulo and works closely with the Department for International Trade (DIT) and the teams involved in promoting Brazil-UK business relationship. UKEF has up to £3 billion in capacity to support Brazil-UK trade, and since 2016 has been able to provide finance in Brazilian Real.
Published 25 January 2018