UK Export Finance backs £2.32 billion of UK exports in 2011-12
UKEF backs exports with £2.32 billion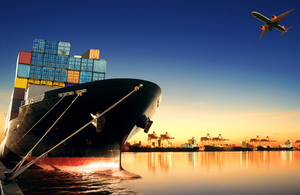 UK Export Finance, the UK's export credit agency, provided £2.32 billion of support to UK exporters to help businesses achieve growth in 2011-12.
The support, detailed in UK Export Finance's 2011–12 annual report, showed that 204 guarantees and insurance policies were issued to support British companies competing in overseas markets, compared to 192 in the previous financial year.
Support for exports contracts worth £93 million was provided under new short-term products, which UK Export Finance introduced in early 2011. These new products were designed to complement commercial market support for exports sold on short terms of credit. This has proved valuable for exporters, often smaller companies, who experienced difficulty finding the support they need for single contracts in the private market and the intervention has been welcomed by exporters and trade bodies.
UK Export Finance Chief Executive Patrick Crawford said:
"This has been a successful year for UK Export Finance, which has seen it meet the challenges of meeting demand from exporters for its medium-term products and of responding to the needs of smaller exports where they have not been able to find finance and insurance from commercial sources.
"UK Export Finance has also demonstrated the value it can bring to the government's efforts to support UK competitiveness for high value export opportunities, such as that represented by the expansion and investment programme of Petrobras in Brazil."
Support for Airbus remained a significant part of UK Export Finance's business, providing support for 132 aircraft. Demand for civil projects also remained high. Among the wide range of civil exports supported were:
a contract won by Siemens VAI for the supply of a combined plate and Steckel mill to Gerdau Açominas SA in Brazil

a contract awarded to Carillion Plc by Emaar Properties for the construction of two properties at the Burj Khalifa complex in Dubai

a contract for the supply by Gentec Energy Ltd of a compressed natural gas delivery system to Green Fuels Ltd of Nigeria
UK Export Finance also reported the agreement in the year of a $1 billion line of credit to Petróleo Brasileiro Sociedade Anônima (Petrobras) of Brazil to finance UK export contracts for Petrobras' investment programme. Petrobras will nominate export contracts with UK-based companies for financing under the line of credit. Supplies under consideration include rigs and vessels for exploration, remotely-operated vehicles, control systems, compressors, global positioning services and hardware.
In his foreword to the report, the Minister for Trade and Investment, Lord Green, said:
"The government has now set an ambitious goal to increase exports to £1 trillion per annum by 2020. UK Export Finance has a part to play in helping to achieve that goal. It is now providing support to exporters who have not previously used its services and I look to UK Export Finance to continue its good work to support exports and thereby help achieve the government's ambition to improve the UK's export performance."  
Published 6 June 2012