Press release
UK Export Finance appoints Pat Cauthery to lead aerospace and defence business
UK Export Finance (UKEF), the UK's export credit agency (ECA), has appointed Pat Cauthery as its new Head of Aerospace and Defence.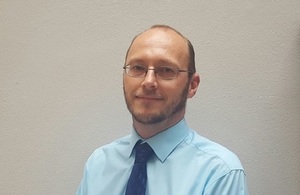 Pat comes from an extensive career with UKEF, most recently leading the department's strategy development, policy and communications activities as Head of the Chief Executive's Office. Prior to this, he spent seven years in the aerospace team, overseeing a number of award-winning transactions across the world. These included UKEF's first capital markets funded transaction supporting the export of Airbus aircraft to operating lessor Aercap, and the first export credit agency supported A380, delivered to Qantas.
UKEF's aerospace and defence team has become renowned for its pioneering support for exporters and their overseas buyers. Recent years have seen huge innovations in its product suite, with a number of ECA firsts including the world's first ECA-backed sukuk and support for a loan in offshore Renminbi.
Gordon Welsh, UKEF's Head of Business Group, welcomed Pat to the role, saying:
This is a hugely important time for the government's export strategy, and, with UKEF's support, companies in the aerospace and defence sectors will play a vital part in achieving our ambitious export targets. I am very pleased to announce Pat's appointment; his expertise and innovative approach to export finance will be a great asset for exports and exporters in these industries.
Pat Cauthery added:
I am delighted to lead UKEF's aerospace and defence business, supporting companies in these important sectors as they realise their ambitions to grow by selling overseas. By providing innovative and flexible finance and insurance, we can help these companies trade in a competitive global marketplace, bringing significant benefits to the UK economy.
Notes to editors
UK Export Finance is the UK's export credit agency. It exists to ensure that no viable UK export should fail for want of finance or insurance from the private market. It provides finance and insurance to help exporters win, fulfil and ensure they get paid for export contracts.

Sectors in which UKEF has supported exports include: aerospace, construction, oil and gas, mining and metals, petrochemicals, telecommunications, and transport.

UKEF has a regional network of 24 export finance advisers supporting export businesses.

UKEF supports exporters with a range of products that include: * Bond insurance policy * Bond support scheme * Buyer & supplier credit financing facility * Direct lending facility * Export insurance policy * Export refinancing facility * Export working capital scheme * Letter of credit guarantee scheme

The latest information on UKEF's country cover positions can be found here.
Media enquiries: Julia Beck, Strategic Communications Manager
Published 6 September 2016