World news story
UK expert helps Guatemalan authorities to track down fake travel documents
For the second time in the past six months, a UK expert visited Guatemala to train more than 120 officials in identifying fake travel documents.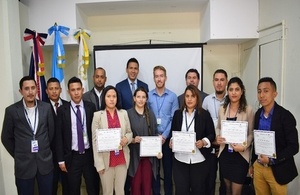 Sean Burton, Immigration Liaison Officer at the British Embassy in Bogota was in Guatemala for a week to give guidance on examining identity documents. The training involves close interaction between the participants who learnt about the most common types of document falsification methods.
These include: impersonation, when a person is simply a "look-alike" presenting a genuine document; counterfeit, a complete reproduction from scratch of a document designed to look like the real thing; forgeries, a genuine document that has been unlawfully altered in some way; and pseudo documents, papers which may have the physical appearance of an ID but are not officially recognised.
The training was delivered by the Immigration Enforcement International (IEI) agency of the UK's Home Office at the premises of the National Institute of Strategic Studies in Security (INEES) of Guatemala.
Representatives from the National Registry of Persons (RENAP), International Criminal Police Organization (INTERPOL), Division of Ports, Airports and Border Checkpoints (DIPAFRONT), Office of the Inspector General (PGN), Ministry of Interior (MINGOB), Ministry of Foreign Affairs (MFA), General Directorate of Civil Aviation (DGAC), Secretary of Strategic Intelligence of the State (SIE), Directorate of Civil Intelligence (DIGICI), Directorate of Intelligence of Defence Staff (GACRI), and the Analysis Unit Against Narcotics of the National Police (SGAIA) participated in the activity.
At the end of the course participants increased their knowledge about the main security features included on many travel documents and understood the main techniques used in the identification of documents. They also have a better understanding of the flows of illegal immigrants, human trafficking and drugs smuggled to Europe and the United Kingdom from the region.
An introductory training on this matter took place in Guatemala on September 2017.
Commenting on the course, Carolyn Davidson, British Ambassador to Guatemala, said:
The availability of fake identification documents is worrying, especially when we don't know who bought them and where they are. This potentially poses a threat to Guatemala's national security and its allies, and we want to work closely with the local authorities to help them combat such actions and tackle the illegal activities from worldwide organized crime.
Published 2 March 2018