World news story
UK expands links with US Latino Business Leaders
This was published under the 2010 to 2015 Conservative and Liberal Democrat coalition government
Government representatives will showcase the best of Britain at the largest gathering of US Hispanic business executives & entrepreneurs.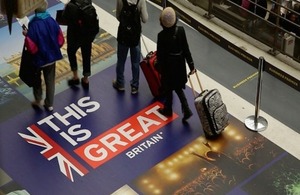 The British Consulates General in Los Angeles and Houston will join for the first time the US Hispanic Chamber of Commerce's National Convention 21-23 September to showcases the very best of what Britain has to offer and expand UK commercial partnerships with Hispanic business leaders in the US.
The conference is the largest gathering of Hispanic business executives and entrepreneurs in the US. These groups make a major contribution to the US economy and are growing ever stronger both in size and in influence.
Among the planned activities, the UK's involvement includes:
Showcasing the UK's expertise in energy sustainability
Highlighting the UK as a leading inward investment destination
Promoting the GREAT Britain band across all sectors
Expanding our networks of contacts among Hispanic business multipliers in the United States
Building the UK's digital engagement with Hispanic Americans.
Chris O'Connor, the British Consul General in Los Angeles, said:
Hispanic Americans are major players in the US economy. They have the potential to be even more influential in the future. I am pleased we have this opportunity to expand our connections with such a vibrant entrepreneurial community as we continue to sustain and build our two countries' unrivalled business partnership.
To learn more about what the British Consulates in Los Angeles and Houston are doing with the Latino business community, follow them on Twitter: @UKinCalifornia, @UKinTX and @UKinUSA_Latino.
Document information
Published: 19 September 2014