UK Embassy official visit to Ekaterinburg
Barbara Habberjam, Minister-Counsellor for Economic, Trade and Investment issues, British Embassy in Moscow, visited Ekaterinburg.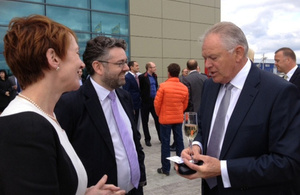 Mrs Habberjam took part in the opening of the new JCB Techno-Trade Centre and met with the high level regional government officials and leading scientists.
Located just outside the city the JCB Techno-Trade Centre occupies the territory of 3500 square meters, is the largest in Europe and the only one in Russia. More than 20 machines including 30 tonnes crawlers can be displayed in the Centre at once. JCB opened the centre in partnership with its official dealer in Urals and Siberia – Stroykomplekt Company.
Addressing the audience at the event, Barbara Habberjam said: "It is important that the centre will not just display the variety of JCB machinery but will also offer highly professional service and maintenance support. This will help to provide an effective customer service close to the client".
During the day, Mrs Habberjam met with the recently appointed Minister for the International and Foreign Economic relations of Sverdlovsk region, Mr Andrey Sobolev, where they discussed on going events and opportunities for the future cooperation between UK and Sverdlovsk region.
Minister-Counsellor also visited the Ural Branch of the Russian Academy of Sciences and met with the Chairman of Ural Branch Professor Valeriy Charushin. Mrs Habberjam underlined the importance of the UK-Russian scientific co-operation and discussed future plans for bilateral scientific cafes which became very popular in the Urals.
Published 4 September 2013