World news story
UK electronic visa waiver valid from 1st January
From 1st January 2014 United Arab Emirates, Qatari and Omani passport holders can travel to the UK with an Electronic Visa Waiver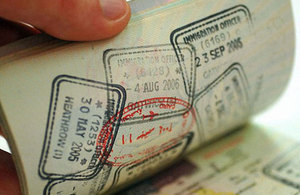 From 1st January 2014 United Arab Emirates, Qatari and Omani passport holders can travel to the UK with an Electronic Visa Waiver (EVW) Document. This allows them to visit the UK for up to six months without a visa.
An EVW is very simple to complete, free of charge and quicker than applying for a visa. There is no requirement to provide biometrics, attend a visa application centre or hand in passports prior to travel. The document is issued immediately via a secure web site and can be obtained online from anywhere in the world for travel to the UK.
Travellers must complete their EVW online at least 48 hours before departure and present a printed copy on departure and again on arrival in the UK.
The EVW Document is only valid for a single entry to the UK on the date and time specified. The biographic details on the EVW Document must match exactly with the holder's passport.
Those who travel frequently, at short notice or may need to re-enter the UK as part of the same trip are advised to apply for a multi-entry visitor visa or longer term visa. This offers more flexibility and can last up to ten years.
United Arab Emirates, Qatari and Omani passport holders wishing to work, study or visit the UK for longer than six months must obtain a visa and cannot travel on an EVW Document.
During his current visit to Oman, the UK Foreign Secretary, William Hague said:
"I am delighted to be back in Oman on my third visit here as Foreign Secretary. The UK and Oman share a uniquely close relationship not just between our governments, but also between our people. I am therefore very pleased to say that the new Electronic Visa Waiver Scheme, which will allow quick and simple access to the UK, will be available for Omani passport holders from 1st January 2014. This reflects the UK's firm desire to continue to strengthen our relationship with Oman.
"Each year we welcome ever increasing numbers of Omani visitors to the UK for business and leisure. The new visa waiver will now make it cheaper and even easier to visit and I look forward to welcoming warmly record numbers of Omani travellers in 2014."
Published 9 December 2013