World news story
UK education companies look to strengthen Guatemalan links
A business mission from the British Association of Colleges (AoC) and Pearson (a leading UK educational company) visited Guatemala this week.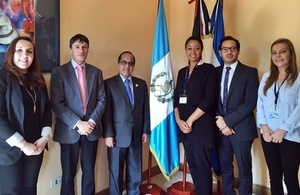 They sought to build strategic alliances in the education sector, and strengthen youngsters' skills in English, management and technical services.
The mission visited Guatemala from 11-12 August and included Mrs. Ayesha Williams, International Charter manager at AoC; Mr. Enven Wong, Regional Manager of Pearson; and Katrin Bouwens, Regional Economics Affairs Officer at the British Embassy in Panama. The delegation was met in Guatemala by Mr. Andrew Tate, Chargé d'Affaires at the British Embassy.
The Association of Colleges represents and promotes the interests of colleges in the UK and provides members with professional support services, such as international engagement to increase business and create strategic alliances in other countries. Pearson is the UK's leading company in the development of learning materials, techniques and digital solutions.
The delegation met key stakeholders from the private and public sectors of Guatemala, including the Minister of Education, Oscar Hugo López; the Director of Programmes and Projects at the Ministry of Economy, Enrique Gil; the Chief of Technical and International Cooperation at INTECAP, Vinicio Morales; representatives of the Guatemalan Association of Exporters (Agexport), chambers of industry/commerce, universities and technical schools.
During their meetings the visitors highlighted the UK's expertise in key areas such as English language tuition, which can benefit young people searching for a job at contact centres or BPOs, and which also fall under the remit of the Government's "Youth Employment Programme". Other areas of interest included training solutions in management, commercial topics and technical careers.
To mark the visit, Andrew Tate, Chargé d'Affaires at the British Embassy in Guatemala, said:
Britain is committed to working with our international partners such as Guatemala in fully playing our part in ensuring a safer, healthier and more prosperous world. Our education institutions are world renowned - Britain is home to four of the world's top ten universities. The UK offers a world-class education, globally respected universities and qualifications and great career prospects. I'm pleased that the mission had a highly successful visit.
Published 12 August 2016