World news story
UK DFID Minister for Africa, Lynne Featherstone meets Nuhu Ribadu
UK DFID Minister for Africa, Lynne Featherstone seeks Nuhu Ribadu's views on the way forward for Nigeria's anti-corruption agenda.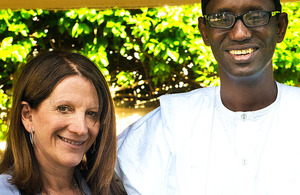 DFID's Parliamentary Under Secretary of State and Minister for Africa, Lynne Featherstone called on Nuhu Ribadu to gain his insight on Nigeria's current anti-corruption agenda. Featherstone commended Mallam Ribadu for his work as an anti-corruption champion, and was particularly interested in whether any of the recommendations from the Presidential Task Force on Petroleum Revenues were currently being pursued. Ribadu said that he is still waiting for a government response.
The UK has had a long-standing partnership with Nigeria on combating corruption. With UK support, since 2004 the EFCC has recovered around £8 billion in cash and stolen assets, and charged 338 people on corruption charges. The partnership led to the conviction and imprisonment of former Governor James Ibori and his associates by a UK court and secured the first conviction of a UK firm for bribery of Nigerian officials.
Published 4 June 2013