World news story
UK Development Secretary: skills boost for Punjab
This will help people in Punjab to lift themselves out of poverty and give them a brighter future.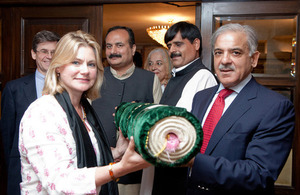 A total of 135,000 of the poorest women and men in Punjab will benefit from job skill training by the end of 2015, today confirmed Justine Greening, Secretary of State for the UK's Department for International Development (DFID), while speaking at a business meeting in Islamabad.
Participants (nearly half of them women) receive free training on job skills in high demand, such as mechanics, tailors, cooks, and computing.
Secretary of State for International Development Justine Greening said:
The UK will continue to support the Government of Punjab to expand this successful job training scheme, which has already helped tens of thousands of the poorest men and women in Punjab to earn a livelihood. This will help people in Punjab to lift themselves out of poverty and give them a brighter future.
Chief Minister of Punjab Mohammad Shahbaz Sharif said:
Employment is the dignified route out of poverty. Thanks to our collaboration with the UK, this training scheme has helped thousands of men and women in Punjab get the skills they need to get a job and earn honest money. It has been a real success which is why we are expanding it to another ten districts, and hope to take it across the whole province in the future. We look forward to continuing to work with the British Government as equal partners to help millions of our citizens free themselves from the shackles of poverty with dignity and self-respect.
This reflects an expansion of the successful job training scheme launched in 2010 in a partnership between the UK and the Government of Punjab. More than half of the trainees who were previously unemployed get a job within six months.
The scheme currently operates in four districts in Punjab (Bahawalpur, Bahawalnagar, Lodhran, Muzaffargarh), and based on the success in these districts it will now expand to another ten, including Lahore, Sheikhupura, Gujranwala, Faisalabad, Sargodha, Chiniot. Some 20,000 people have already received skills training and are earning more money. The UK is working with the Government of Punjab to explore the feasibility of expanding this job training scheme across the whole of Punjab.
Earlier today Justine Greening met with political leaders including Finance Minister Ishaq Dar to discuss prospects for economic stability and growth, and plans to tackle poverty over the coming years.
Pakistan is now one of the UK's largest recipients of development investment. Over the coming years the UK will invest heavily in supporting economic growth by providing this practical job training to tens of thousands of the poorest people, and enabling millions more to access financial services for the first time, such as microfinance loans, so that they can lift themselves out of poverty. The investment is dependent on continuing to secure value for money and results.
Other priorities for the UK include working with Pakistan to benefit four million children in school and decrease the maternal mortality rate by funding skilled midwives, nurses, or doctors for one million births.
Media enquiries
In Pakistan, contact DFID-Pakistan media team on + 92 (0) 51 201 2516 / 2580.
Notes to editors
The Department for International Development (DFID) is the UK's Government department responsible for promoting sustainable development and reducing poverty. The central focus of DFID is a commitment to the internationally agreed Millennium Development Goals to be achieved by 2015.

Further information here https://www.gov.uk/government/world/pakistan
Published 11 July 2013