World news story
UK Development Secretary Justine Greening arrives in Pakistan
We have more than one million people of Pakistani descent living in the UK. We are bound together through business, family, and friendship.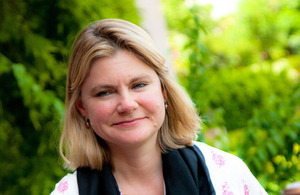 Justine Greening, Secretary of State for the UK's Department for International Development (DFID), arrived in Pakistan today to meet with political leaders, including Finance Minister Ishaq Dar.
The UK is one of Pakistan's closest development partners. Discussions focused on action being taken by the new Government to improve economic stability, increase the tax base, tackle poverty, and generate growth, and how the UK can best support its ambitious commitments.
Speaking in Islamabad, Secretary of State for International Development Justine Greening said:
I am in Pakistan for the second time this year to see for myself how the UK's investment is helping to create jobs and generate growth which will transform people's lives. What happens in Pakistan matters deeply to the UK. We have more than one million people of Pakistani descent living in the UK. We are bound together through business, family, and friendship.
The UK will support the new Govt at the federal and provincial level as it delivers on its ambitious goals to create jobs, improve education and health, reduce poverty, and drive Pakistan's growth to become a global economic player. This will enable millions of people in Pakistan to lift themselves out of poverty and have a brighter future.
The UK Development Secretary welcomed the Pakistan Government's manifesto commitment to increase the tax to GDP ratio to 15% by 2018. She confirmed that it had been agreed that the UK will provide expert assistance through high-level dialogue between the UK's HMRC (Her Majesty's Revenue & Customs) and Pakistan's Federal Board of Revenue to help achieve this.
The UK Development Secretary said:
The recent elections are a crucial milestone in Pakistan's history. I have heard encouraging plans from the new Government on how it will rebuild the economy, create jobs, and reduce poverty.
By paying their taxes and backing reform, business, the wealthiest individuals and elected politicians in Pakistan can show their commitment to a more vibrant future for ordinary Pakistanis.
We know this will be challenging, but without creating the right climate for wealth creation Pakistan will never be able to invest in a more prosperous future. The UK will continue to support Pakistan as it delivers on these reforms, which are key to stability and long term prosperity.
The UK Development Secretary confirmed that the UK Government through DFID is working with the provincial government in Khyber Pakhtunkhwa to set up a revenue collection office. She welcomed the Punjab Government's plans to raise more tax, and confirmed the UK is already in discussion on how best to support them in both collection and how to spend transparently.
She also welcomed the recent increase in monthly cash payments for Pakistan's national Income Support Programme (BISP), which the UK supports, and noted that this commitment to helping the poorest is an excellent step by the new Government. The programme gives women in the poorest households small monthly cash grants of 1,200 rupees (approx. £8) to purchase essentials, such as food and medicine, and to help send their children to school. Mothers can receive an additional 200rps for each child (up to three) in primary school.
Pakistan is now one of the UK's largest recipients of development investment. Over the coming years the UK will invest heavily in supporting economic growth by enabling millions of the poorest people to access financial services for the first time, such as microfinance loans, and providing practical job training (such as car mechanics, computing, beauticians, etc) to tens of thousands of people so that they can earn more money and lift themselves out of poverty. The investment is dependent on continuing to secure value for money and results.
Another top priority for the UK is education. The UK's continued work with Pakistan will benefit some four million children in school in 2015, recruit and train tens of thousands of new teachers, construct or rebuild more than 20,000 classrooms, and improve test results in core subjects including maths and english.
Other priorities for the UK include preventing thousands of mothers dying in childbirth by funding skilled midwives, nurses or doctors for one million births; and enabling half-a-million couples to choose when and how many children to have.
Media enquiries
In Pakistan, contact DFID-Pakistan media team on + 92 (0) 51 201 2516 / 2580.
Notes to editors
Without raising more funds, Pakistan will not be able to provide essential public services or invest in a more prosperous and equitable future. HMRC will provide Pakistan's Federal Board of Revenue with expert assistance at senior official level, including advice and sharing experience on approaches to tax collection and enforcement. This will complement the technical assistance programme that the World Bank will be providing to the Government of Pakistan.

The Department for International Development (DFID) is the UK's Government department responsible for promoting sustainable development and reducing poverty. The central focus of DFID is a commitment to the internationally agreed Millennium Development Goals to be achieved by 2015.

Further information here https://www.gov.uk/government/world/pakistan
Published 11 July 2013