World news story
UK Department for International Trade launched in Chennai
The British Deputy High Commission introduced the new Department for International Trade (DIT) in Chennai today.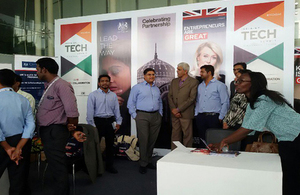 The event which brought together the city's leading businesses reinforced the message that Britain is very much open for business and seizes opportunities of leaving the European Union by becoming a leading proponent of free trade to create jobs and mutual prosperity.
British Deputy High Commissioner in Chennai, Bharat Joshi said:
Our ties with India have never been stronger. Prime Minister Modi's visit last year highlighted our shared history, language, diaspora, our joint vision for a fairer, cleaner future for our children. Our new Prime Minister's visit next month to open the India-UK TECH Summit with Prime Minister Modi is another milestone in this key relationship and reflects India's importance as a strategic partner. Nowhere is this more evident than in our commercial ties: Indian companies created over 7000 jobs in the UK last year, second only to the US. And one in twenty jobs in the formal sector in India have been created by UK firms.
During the day, the British Deputy High Commission Chennai conducted a road show at the Ascendas IT Park to reach out to the information technology sector to talk about the UK – India commercial relationship, UK government funded scholarships, programmes to support and develop the next generation of women leaders and visas.
The TECH Summit is India's flagship knowledge and technology conference and exhibition in partnership with the Government of India and the Confederation of Indian Industry (CII), providing a platform for promoting technology-intensive trade and investment. UK partnership at the summit was agreed our two Prime Ministers in 2015. The Summit will be inaugurated by the Prime Minister of India Narendra Modi and the Prime Minister of UK Theresa May, who will be making her visit outside Europe since she took on the role. The Summit will provide a platform to industries, institutions and government agencies from India and the UK to build long-term partnerships to boost both countries' prosperity and make the world a better place through sustainable healthcare and energy solutions.
Further information
DIT was created in July 2016 as the government department responsible for promoting British trade across the world. In India, DIT connects Indian businesses with the right UK partners and suppliers through meetings, meet-the-buyer events, networking receptions and product launches.
Research and development collaboration which underpins future prosperity has risen from £1 million in 2008 to over £200 million today and is growing exponentially. It is supported by the highly innovative joint Newton Bhabha Fund which by 2021 will be worth £104 million.
UK's largest scholarship scheme anywhere in the world is in India, including 130 fully funded Chevening scholarships and fellowships programmes for future leaders as well as a range of other bilateral programmes. This year we are offering 65 fully funded masters in any discipline at any institution for Indians to develop their skills and return to India. We also offer 65 shorter Fellowships in a range of disciplines including Science and Innovation with Rolls Royce, Financial Skills with Standard Chartered Bank, Cyber-Security Leadership, Journalism courses. The British Council also offers 300 new part scholarship GREAT awards available worth over 151 million rupees for subjects including engineering, law, business, art & design, biosciences and IT across 45 UK institutions across the UK.
For media queries, please contact:
Anita Mawdsley
Press & Public Affairs Officer
British Deputy High Commission, Chennai
Mob: +91-96001-99956

Email: Anita Mawdsley
Follow us on Twitter, Facebook, Flickr, Storify, Eventbrite, Blogs, Foursquare, Youtube, Instagram, Vine, Snapchat @UKinIndia, Periscope @UKinIndia
Published 19 October 2016