World news story
"UK delivering for poorest Zambians": High Commissioner
This was published under the 2010 to 2015 Conservative and Liberal Democrat coalition government
The British High Commissioner, James Thornton, has said that the UK's cooperation programmes in Zambia are delivering for the poorest people in the country.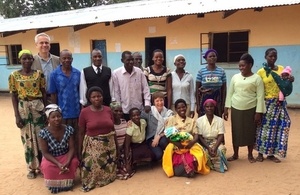 He said this after touring a number of projects in Southern Province this week with Emma Donnelly, the Head of the UK's Department for International Development (DFID) office in Zambia, and other members of the DFID team.
In each case the places visited were benefitting from programmes being undertaken in a range of districts across the country where the UK is supporting the Zambian Government and private sector to improve the lives of poor people. Some of the projects were in communities more than an hour's drive from a tarred road.
The High Commissioner and Ms Donnelly opened a family planning centre of excellence in Batoka. They also visited a village in Gwembe District benefitting from social cash transfers and a village in Kalomo District where the private sector was being helped to supply seeds, fertiliser and veterinary services to farmers.
In addition they visited health centres and health posts in Monze and Choma districts; a one-stop centre for victims of gender-based violence; and a village in Monze District which has been declared free of outdoor defecation.
They also met chiefs who were active in promoting sanitation and greater private sector penetration in their areas.
The High Commissioner said:
"I have not often visited such remote communities. Many of the people we met had virtually nothing. I am really pleased that DFID is working with the Zambian Government and with private-sector organisations to improve the lives of those in most need."
Ms Donnelly said:
"Zambia's economic growth has been impressive for the last decade. The challenge for the Government is now to ensure that those resources are used to improve the lives of poor people. DFID supports the Zambian Government to implement excellent programmes such as Community Health Assistants and Social Cash Transfers. We hope these can be extended to benefit more needy people across the country."
Further information
For further information contact the Press and Public Affairs Section on +260 211 423200; Alfred Kapalayi on +260 955 945771
British High Commission, Lusaka 21 November 2014
Document information
Published: 21 November 2014