World news story
UK Delivering Excellent Visa Services
On the 1st April the UK is set to transform its visa service for applicants in Kuwait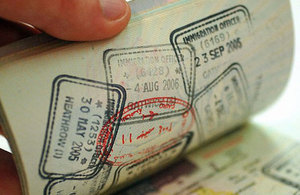 A new state of the art application centre will open which is double the size of the current facility and will provide a new luxurious VIP lounge. The process of applying for a visa will also be streamlined as it is moved fully online.
Applicants will no longer have to complete a paper application form and pay for their visa fee with cash. From the 1st of April, all applications should be completed online via the website www.visa4uk.fco.gov.uk once the application form is completed, customers can choose an appointment and make the payment for their visa online. This change is part of a global initiative from the UK home office to improve visa customer service by reducing the time it takes to complete and submit a visa application.
The new online application system allows people to create an account and stores their personal details which can be used for repeat applications, making the system faster and even simpler. Online payment can be made using visa, mastercard and the e-wallet' Skrill service. The new application centre will be located on the 25th floor of the new iconic building, Al Tijaria Tower. The VIP lounge, which can be accessed for an additional fee provides extra special customer service. The VAC offers a 360 degree panoramic view of Kuwait City, the coastline and famous landmarks such as Kuwait Towers.
HMA Frank Baker said:
The new visa application centre will provide a first class experience for our high value Kuwaiti customers. The centre is much bigger than the old one, and will provide far greater comfort, especially for those customers opting to use the VIP facility. Last year we welcomed more Kuwaitis to the UK than ever before, with demand for UK visas growing by over 40 %. We hope the new streamlined services will encourage ever move visitors to come to the UK.
Matt Heath regional Director for UK visas and immigration said:
We're streamlining our processes by moving everything online from the 1st April which together with the new application centre will deliver the modern service our customers in Kuwait deserve. This is a big enhancement, online appointments will significantly reduce waiting times at the centre, cash is no longer needed and the online application system will make repeat applications really simple.
The UK has already announced that it will be introducing a new Electronic visa waiver scheme during the course of 2014, which will complete the transformation of visa service for Kuwaiti customers. However, right now Kuwaiti citizens still require visas to travel to the UK.
Published 1 April 2014