Press release
UK deeply concerned by large-scale violence in Egypt
UK concerned by violence in Egypt and emphasises the need for an inclusive political process.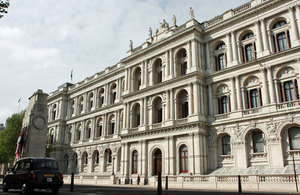 A Foreign and Commonwealth Office spokesperson said:
We are deeply concerned by the large-scale violence in Cairo and other parts of Egypt that has resulted in over 50 deaths, including from the use of live fire by the security forces. We call on the security forces to ensure that their response is proportionate at all times. We urge all those protesting to do so peacefully and responsibly.
We are also concerned by the attacks against security force buildings in El Tur this morning, as well as reports of violent attacks against members of the armed forces in Ismalia.
The only sustainable way for Egypt to address its current challenges is through an inclusive political process which allows all Egyptians a voice in the country's future. The UK stands ready to support the Egyptian people in achieving this.
Further information
Follow the Foreign Office on twitter @foreignoffice
Follow the Foreign Office on facebook and Google+
Published 7 October 2013