UK 'deeply concerned' about the political crisis in Cote d'Ivoire
Foreign Secretary William Hague has commented on the ongoing political crisis in Cote d'Ivoire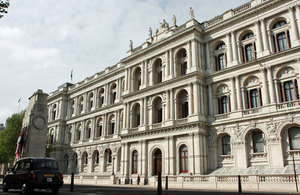 Foreign Secretary William Hague said:
"The UK is deeply concerned about the ongoing political crisis in Cote d'Ivoire, the risk of serious instability and the impact on those who have fled the country.
"We believe that former President Gbagbo must step aside and accept the results of the Presidential elections. The outcome of the ECOWAS Summit of West African nations on 24 December made this clear.
"The UK echoes the call of West African leaders for a swift and peaceful transfer of power. We urge former President Gbagbo to accept the mission of an ECOWAS high level delegation travelling to Abidjan this week.
"The people of Cote d'Ivoire do not deserve to be denied democracy, suffer violence or be forced to flee their country as refugees. Former President Gbagbo has a chance to bring this crisis to a peaceful conclusion."
Published 26 December 2010