World news story
UK contributes to strengthening transparency in the Guatemalan private sector
The British Government is supporting a project aimed at creating awareness of ethical, anti-corruption and transparency issues in the Guatemalan business community.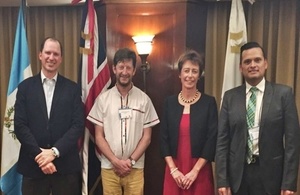 The project is being implemented by the Centre for the Action of Social Business Responsibility in Guatemala (CentraRSE). It has facilitated a National Forum to consider the implications of living in a society highly marked by corruption, lack of transparency and absence of ethical values in the most important institutions of the State.
In addition the project included the development of an Ethical Leadership Programme which produced a guidance document with the necessary tools for companies to implement policies, practices and procedures to improve transparency. An online course on ethics and international best practice is due to be in place by the end of this year.
From August until the end of this year it is expected that nearly 2,000 people, including 50 different companies, will have been involved in the different activities. Also the project has included the participation of five Guatemalan universities and international experts, such as Francois Valleys, specialists on Social Corporate/University Responsibility, who imparted the leadership programme.
The United Kingdom is committed to preventing corruption and the destructive impact it has on communities around the globe. With our partners, including the Guatemalan private sector and academia, we are working to sustain transparent and open societies by discussing international best practice on transparency and business ethics.
British diplomat Carolyn Davidson attended one of the workshops this week and said:
"We support the work of CentraRSE closely. Its work draws on relevant UK expertise, and helps Guatemalan private and educational sector institutions to build a more transparent and just country in which all people can live in a responsible, ethical and ultimately prosperous manner. I would encourage all of you to adopt and champion a voluntary code of conduct, highlighting the importance and benefits of transparency and anti-corruption measures directly to your companies and those you do business with".
Document information
Published: 13 October 2016