World news story
UK contributes to fight against money laundering and financing of terrorism in Guatemala
Experts from the International Governance and Risk Institute (GovRisk) from the United Kingdom will share the latest advances in the fight against financing of illicit activities with more than 50 officials from several Guatemalan institutions.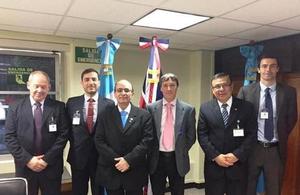 The course will take place from 8 to 10 November at the premises of Guatemala's Bank Regulatory Authority (SIB) and will include preventive and prosecution measures to combat illegal financial activities. The target audience for this training includes real estate agents, bankers, lawyers, and others that are exposed to the risk of managing assets of dubious origin.
The main objective of the programme is to strengthen the authorities' capabilities to comply with the international standards of the Financial Action Task Force (FATF). More than 50 officials from Guatemala's Financial Intelligence Unit will participate in the training facilitated by GovRisk and SIB with the support of the British Embassy.
The experts from GovRisk providing the training are Mr. Alejandro Montesdeoca Broquetas and Mr. Ricardo Gil Iribarne, both of whom worked as Secretary General (2005-2012) and Projects Director (2010-2015) respectively, within the Financial Action Task Force of Latin America (GAFILAT) the Latin American arm of the FATF.
The inauguration ceremony of the seminar was attended by Mr. Andrew Tate, Deputy Head of Mission at the British Embassy in Guatemala; Mr. Jose Alejandro Arevalo, Head of the SIB; Mr. Samuel Alcantara, Deputy Head of the SIB, and Mr. Mark Willcock, Projects Manager at GovRisk.
To mark the event, Andrew Tate, Deputy Head of Mission at the British Embassy in Guatemala said:
"I'm pleased that the United Kingdom is able to support this programme of technical assistance. Money laundering and financing of terrorism are threats that cross borders and that require strong judiciary and security regimes in response. This project with Guatemala's Bank Regulatory Authority will improve the understanding of top level officials of these international norms. At the same time, such improvements will help Guatemala become a more attractive destination for foreign investment".
Published 8 November 2016