UK contracts defend jobs and skills in Scotland's shipyards
The Secretary of State visited Rosyth to see progress on the Queen Elizabeth class aircraft carriers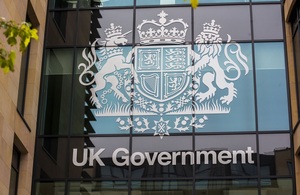 The UK Government's defence contracts across Scotland continue to play a vital role in the defence of the nation and sustaining jobs and skills, the Secretary of State for Scotland Michael Moore said today (Monday 14 November).
The Minister was at Babcock in Rosyth for an update on progress on the Royal Navy's new Queen Elizabeth class aircraft carrier.
He met management and workers on a tour of the site which included the 90-metre-high Goliath crane which is on site to aid the construction of the vessels.
Scotland's essential role was underlined at the Defence Review last year when the multi-billion pound contract for the carriers was confirmed. Work on the Queen Elizabeth class is anticipated to create or sustain around 5,000 jobs at shipyards in Glasgow and Fife alone, as well as around 2,000-3,000 in the supply chain.
Babcock employs around 2,500 people between its west and east coast shipyards, and the The Queen Elizabeth programme has seen the company employ over 150 apprentices at Rosyth.
Michael Moore said:
"Scotland plays a key role in supporting the UK's defence sector and the progress being made on the next generation of our aircraft carriers shows the commitment and skill of our workforce. The work is supporting not only jobs and the expertise which has been built up over decades, but also smaller companies in the supply and local communities.
"Being part of the UK means Scotland maintains access to this sort of spending and I am keen to see that continue. There is no doubt that the issue of a referendum continues to cause uncertainty in the sector and it is important for the future of Scotland's defence industries and the many thousands who work in them for the issue to be cleared up as soon as possible."
Published 14 November 2011