World news story
UK continues assistance for managing defence in Western Balkans
This was published under the 2010 to 2015 Conservative and Liberal Democrat coalition government
British Ambassador Charles Garrett closes the Managing Defence in a Wider Context course for Western Balkans participants.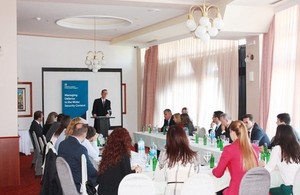 UK continues defence reform support to countries in the Western Balkans as they strive to align with the euro-atlantic structures and demonstrate aspirations to join the NATO family. This message was sent today by our ambassador Charles Garrett at the closing ceremony of the Managing Defence in a Wider Context course which took place in Ohrid. The two-week course was part of the bilateral cooperation efforts of UK and Macedonia bringing together also participants from Albania, Kosovo and Montenegro.
Our ambassador Charles Garrett and the State Secretary from the Ministry of Defence of Macedonia Sasho Stefanoski awarded certificates to participants who successfully completed the course. Besides awarding certificates, the ambassador had the opportunity of speaking with participants on various issues related to defence and security, important for the UK and for the region as well as answering questions.
Speaking at the course our Ambassador Charles Garrett said:
I am delighted to be here today and see another successfully completed initiative between UK and Macedonia and countries of the wider region. I am happy that this course also involved participants from defence sectors of Albania, Kosovo, Macedonia, Montenegro, civil society and media. UK enjoys good cooperation with Macedonia and other countries in the region and we have been firm supporters of the reform agenda as countries have gone through security sector reforms.
The course was organised by the Defence Section in the British Embassy Skopje led by Lt Col Richard Parry, Defence Attaché to the Republic of Macedonia in cooperation with the Macedonian Ministry of Defence. It was delivered by joint efforts of the UK education institutions, Cranfield University and the Defence Academy.
Connect with the British Ambassador at @BritAmbCGarrett.
Follow us on Facebook and Twitter @ukinmacedonia.