World news story
UK consular staff in Kampala respond to South Sudan crisis
The UK provided assistance including an evacuation flight from Juba to Entebbe.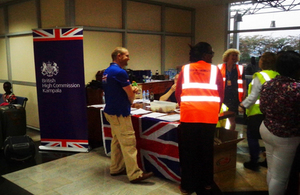 UK consular staff from the British High Commission in Kampala and the Foreign and Commonwealth Office (FCO) in London have deployed to Uganda's Entebbe International Airport, to provide the full range of consular support and assistance to British nationals evacuated from Juba airport as a result of the current violence in South Sudan. The UK's consular assistance to British nationals also included arranging an assisted departure flight from Juba to Entebbe on 14 July. The High Commission in Kampala has established an operations room to co-ordinate its response to the situation in South Sudan and the evacuation of British nationals to Uganda.
Our consular operation is one aspect of the UK's response to the current violence in South Sudan. The UK is also continuing to lead in the provision of humanitarian relief to respond to immediate needs in South Sudan, and continues to stand by the South Sudanese people.