News story
UK concerned by political intimidation in DRC
UK Special Envoy to the Africa Great Lakes questions the Democratic Republic of Congo's government's commitment to inclusive dialogue and elections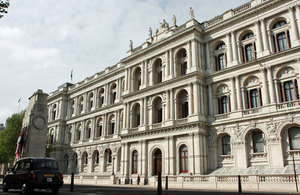 Special Envoy, Danae Dholakia said:
I am deeply concerned by issuance of an arrest warrant for Moise Katumbi, which appears to be part of a growing pattern of intimidation of the DRC government's political opponents. This discouraging news brings into serious question the DRC government's commitment to inclusive dialogue leading to elections and undermines faith in the independence of DRC's judicial institutions.

We urge the authorities to either present credible evidence to support the charges they have made, or desist from intimidation of Mr Katumbi and other members of the opposition.
Further information
Published 20 May 2016